"Serve slightly warm or well chilled ... a smooth-y!! From the 1963 Peter Pan Peanut Butter Cook Book -- Garnish with whipped cream, or lightly dust with powdered sugar and garnish each serving with a small blob of bright jelly! ******Caution: Overcooked baked custards get bubbles and start to leak clear liquid. The weeping is called syneresis. Once a custard curdles, there is no way back. It's wiser to undercook slightly when in doubt!******"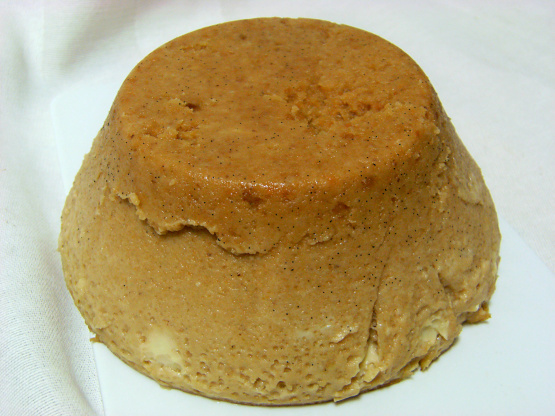 P-Nutty Baked Custard
2 recipe photos
READY IN:

55mins

SERVES:

6

UNITS:

US
Directions
Preheat oven to 325 degrees.
In a mixer or blender, gradually combine milk with peanut butter, beating until smooth.
Combine eggs with sugar, salt, and vanilla, and blend into peanut butter/milk mixture.
Pour into a buttered 1-quart baking dish, set the dish into a water bath ~ set the baking dish in a larger pan filled with 1" of hot water ~ bake at 325 degrees for about 45 minutes, until knife inserted half-way between side of dish and center comes out clean. Do not overcook!
Caution: Why is custard sometimes watery and grainy? Heating too much and cooking too long both make custard curdle. The spongy protein web of eggs and milk loses its elasticity and then hardens, shrinks, and squeezes out the liquid it holds. The custard tastes watery and flat, and the toughened, oversolidified egg-milk protein feels and looks grainy. Overcooked baked custards get bubbles and start to leak clear liquid. The weeping is called syneresis. Once a custard curdles, there is no way back. It's wiser to undercook slightly when in doubt!
Serve warm or cold ~ garnish with whipped cream, or lightly dust with powdered sugar and garnish each serving with a small blob of bright jelly!