"So my sister was raving about this "amazing" open faced bagel sandwich she had the other day at this cafe. I'm not the biggest avocado fan so I was a little skeptical when she started making one for me. I must say I gladly ate my words after one bite because this is SO DELICIOUS!!! It is seriously the perfect combination so please try it!"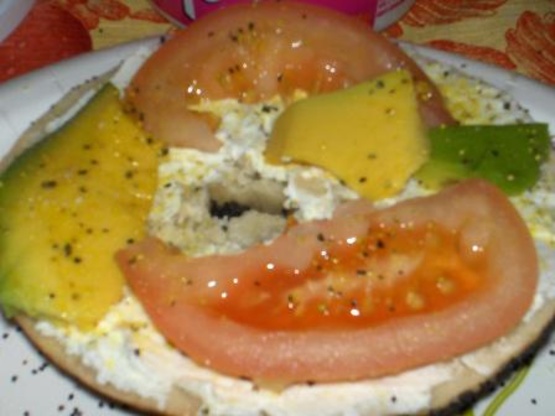 Palm Springs Bagel
2 recipe photos
Directions
Slice bagel in half and toast it, meanwhile you can slice up your tomato and avocado.
Spread each side of bagel with 1 Tbsp of cream cheese (or more if you like).
Top cream cheese with 1-2 tomato slices, then cover with avocado slices.
Finally sprinkle with with lemon pepper to your taste. I would estimate about 1/4 tsp per bagel--but I like a lot! Enjoy!
**Side note: you can use lime pepper seasoning instead of lemon, and you can get creative with your bagel flavors.