"You cannot have one of these unless you have a cup of coffee or hot chocolate and a good friend sitting at your kitchen table with you talking about the lastest "chisme". I remember going to the local panaderia with my Nana and picking up some pan dulce if she knew she had company coming. I would sit at her plastic covered table cloth and not have to worry about any drips as I dipped my bread into the cafe con leche and listened as the conversations flowed around me. I wish I had had this recipe back then and I would have made it for her. This recipe is different from others in that you can make it the night before and then stick it in the oven in the morning and serve it to those you love!"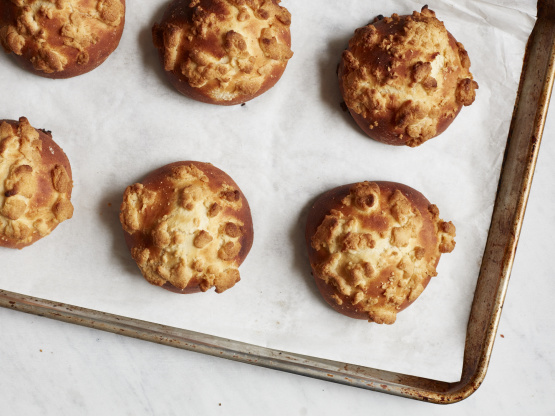 Pan Dulce - Mexican Sweet Bread
5 recipe photos
Directions
Stir together 1 cup of the flour, the yeast, salt, sugar, and powdered milk. Add shortening, egg, and hot water.
Beat at medium speed with an electric mixer for 2 minutes. Add another cup of flour and beat at hight speed for 2 minutes. Stir in remaining flour and mix well.
Turn onto lightly floured board. Dough will be soft and sticky. Do not knead but gently turn dough several times with a spatula to lightly coat with flour. Cover loosely with plastic wrap and allow to rest 20 minutes. Meanwhile, grease 2 baking sheets and make topping.
Topping: Cream butter and sugar. Add egg yolk and cinnamon and blend. Add flour and mix well. Mixture may be crumbly. (I had to add a lot more flour at this point- maybe even 1 1/2 cups).
Rolls: With floured hands, divide dough into 12 pieces and shape into round, flat buns. Place on greased baking sheets.
Sprinkle equal amounts of topping over each bun and press lightly into dough.
Loosely cover rolls in plastic wrap and refrigerate 4 to 12 hours. remove from refrigerator, uncover, and let stand while preheating oven to 400°F Bake for 15 minutes.