"I threw this together tonight when another appy I planned to make fell through. SO fattening, but oh, my goodness, so worth it!! I served this with Mean Chef's Aioli (#54833)."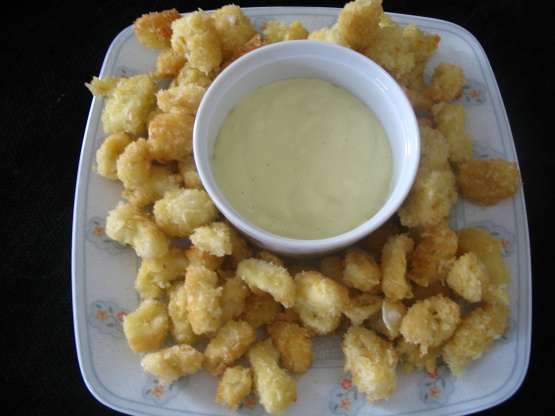 Pan-Fried Calamari Rings
1 recipe photo
16

ounces frozen squid rings, thawed under running water (I got mine at Trader Joe's)

1

cup flour (or less, if you think you can get away with it, just add more as you go if you start with less than)

1

teaspoon cayenne pepper

1

teaspoon kosher salt

3

eggs

1

(6 ounce) package panko breadcrumbs (japanese bread crumbs)

oil, for frying
Directions
Mix together flour, cayenne and salt in a medium-sized bowl.
Feel free to add other ingredients to the flour mix if you want--any herbs or zests (like lemon) would be great.
Put 3 eggs in a bowl (cracked, of course!) and beat lightly.
Place panko on a plate.
Start heating oil to med-high heat in medium-large pan on stovetop.
Dip a few thawed calamari rings into the flour.
Toss till coated.
Dip flour-coated rings into the egg mixture.
Toss flour- and egg-coated rings with Panko.
(An easy way to do this is to have the panko in a plastic ziploc bag--and toss.) Shake off excess panko and put in preheated oil on stovetop.
Don't crowd the pan!
Allowing enough space between rings will ensure that they all cook evenly.
Pan fry till panko is golden and calamari is tender.
Don't overcook---overcooked calamari tastes like rubber!
Serve with dipping sauces of your choice; I like Mean's Aioli (#54833).
Enjoy.
And then go for a run or take a nap.
(This makes 4 servings for an appetizer, if you are looking for a substantial appy, or maybe 2-3 servings for a full meal. This is a FILLING dish).