"This easy-to-fix recipe is from the Australian Women's Weekly *Best Seafood Recipes* cookbook & turns whatever variety of white fish fillets you choose into a company-worthy taste treat. The sauce is the *STAR* here & can be made several hrs in advance, but the fish fillets are best cooked just prior to serving. *Enjoy*"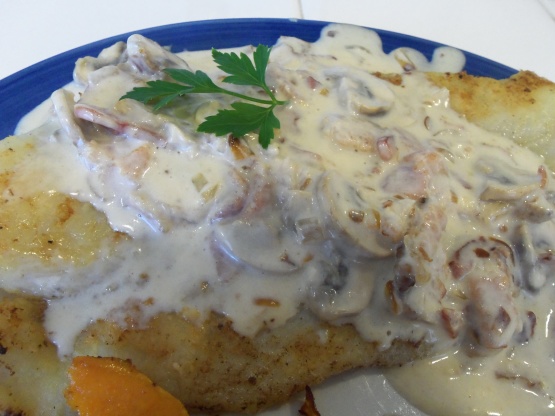 Pan-Fried Fish With Bacon-Mushroom Sauce
5 recipe photos
Directions
For Bacon-Mushroom Sauce:.
Put bacon & onion in a sml saucepan over med-heat. Stir constantly & cook for 2 min or till onion is soft.
Add cream, shallots & cornstarch blended w/water. Stir constantly till mixture boils & begins to thicken.
Add mushrooms, simmer for 1 min & set aside.
For Fish Fillets:.
Dredge fish fillets in flour & shake off any excess (I just shake them gently in a sml plastic bag filled w/the flour).
Heat butter in a lrg frying pan, add fish in a single layer & cook over med-heat for about 4 min on ea side or till fish is tender.
To Serve: Spoon sauce equally over ea fish fillet & serve immediately (I also sprinkle the final assembly w/fresh parsley & a few capers).
NOTE: If the sauce becomes thicker than desired, warm gently over low heat & add sml amts of milk or cream to thin it to your desired consistency.