"This is a blend of aromatic seeds. usually fried in oil or ghee before adding anything else to the pot, flavoring the oil and releasing the aroma of the oils in the seeds and causing them to pop in the pan. Other ingredients are added at this point, the mixture adding sweetness and bringing forward the flavors of vegetables like Bengali butternut squash, beef, fish or lentils."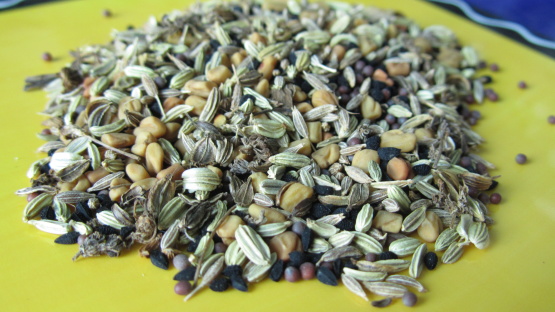 Panch Phoron, Bengali Five-Spice
3 recipe photos
Directions
Mix all together, You can use less or more of your favorite seeds so adjust to taste.
Store out of light in a sealed jar.
This recipe is meant to be used as whole seeds roasted before using in a recipes to release the oils for more fragrance.
Roast in hot oil, until a strong aroma of each spice is released, and use the fragrant oil as a base to cook dal, meats or vegetables.
Roast in Vegetable oil (vegan), butter or ghee and add as seasoning to different dals or thick curries.