"Posted in reply to a message board request. In our family, Panettone for breakfast is a holiday tradition on Christmas and Easter. Here is the recipe my family has used for years. It is a time consuming bread/cake to make and is best started a day ahead of baking or very early on the same day. There are 4 rises in this recipe for a total rising time of 13 hours (depending on how warm your kitchen is). The baking time is 65 minutes. The prep time listed is approximate, and is for the mixing/kneading between the rises."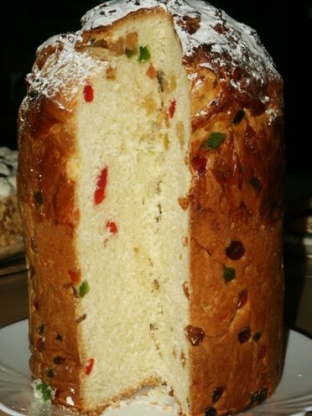 Panettone di Milano
1 recipe photo
5

cups pastry flour

1

envelope yeast

2

teaspoons lukewarm water (for yeast)
1⁄2-1 cup lukewarm water (to add to flour in 2 additions)
1⁄4 teaspoon salt
3⁄4 cup butter, melted

4

egg yolks (at room temp.)

2

eggs (at room temp.)

1

cup sugar
1⁄2 cup lukewarm water (to add to eggs, and sugar)
2⁄3 cup seedless raisin (I use the golden ones)
1⁄2

cup orange rind, cut into small pieces (** can use 1/2 cup candied citron OR 1/4 cup citron + 1/4 cup orange peel instead)

1⁄2 tablespoon butter (*divided if making 2 loaves)
parchment paper (to line baking sheets)
Directions
This cake should be started the day before the actual baking (or very early on the same day).
Sift and measure flour.
Blend yeast with 2 teaspoons warm water and let stand 5 minutes.
Add yeast mixture to 1/2 cup flour and mix well.
Make a little ball of dough out of the flour/yeast mixture.
Place the dough in a bowl, in a warm place for 2 hours.
When ball of dough has doubled in size, place 2 cups pastry flour on a pasty board, place yeast dough in the middle, add enough lukewarm water to make a soft pliable ball and knead carefully.
Cover well and let stand in a warm place for 3 hours.
Place 1 cup pastry flour on board, add yeast dough and enough lukewarm water to make a soft pliable ball of dough and knead well.
Let stand in warm place for 2 hours.
When dough has risen again, place 1 1/2 cups flour on pastry board, add dough, salt and melted butter and knead together well.
Beat together egg yolks, whole eggs, sugar and 1/2 cup lukewarm water.
Beat until frothy.
Add to dough a little at a time, kneading constantly until everything is well absorbed.
Add raisins and peel and knead well to distribute fruit evenly.
You can make 1 large panettone, or loaf, or 2 small ones.
If you wish to make two, divide dough in half and shape.
Let the shaped dough rise in a warm place for 4 to 6 hours (depending on the heat in your kitchen).
The loaf or loaves should be double their original size, and the dough should be very soft to the touch.
Make a cross mark with a sharp knife on the top of each loaf, and place loaf on buttered paper on a baking sheet.
Place in a preheated, hot oven (400°F) for 5 minutes.
Remove from oven quickly, and place a 1/2 tablespoon butter* in the center of the cross mark; (*if making 2 loaves, use 1/4 Tablespoon in each loaf).
Return to oven and bake at 400°F for 15 minutes.
Lower heat to 375°F, and continue baking 45 minutes, or longer, depending on the size of the loaf.
Remove from oven and cool on a rack.
This cake keeps fresh a long time, stored in a plastic bag.
Its not necessary to keep it refrigerated.