"This recipe actually originated from a collaboration between my girlfriend (who lives in Italy) and myself one night. She was visiting, and after spending the day at the beach we were starving. Well, other than a few pantry items, a couple of slices of a baguette, 1 fresh tomato and not much else this was the end result. We came up with this amazing angel hair pasta, frozen spinach, pine nuts (yes, I always have them in the freezer), of course some parmesan, and lastly anchovies (yes, I keep those too, I add them to many sauces). Well we made this pasta which was great, grilled the baguette and broiled the tomato slices with nothing more than a little balsamic, olive oil, s/p and fresh basil. Dinner was amazing and so was this pasta. Now this is a light pasta dish, but has so much flavor. I actually like to serve this as a side dish sometimes if you don't want to serve it as a main dish. It is great as a side with grilled fish like, Halibut, Cod, Tilapia or even grilled scallops. I like use a lemon, olive oil, salt and pepper marinade for the seafood to keep it simple which goes well with the pasta. Give it a try, I know you will really enjoy it. I never really liked anchovies until I tried them toasted or sauteed - they get nutty and sweet. This is literally a 20 minute great dish and serves 4 for a pretty good price. As I said, some fresh tomatoes, grilled bread and dinner in a hurry for family or friends."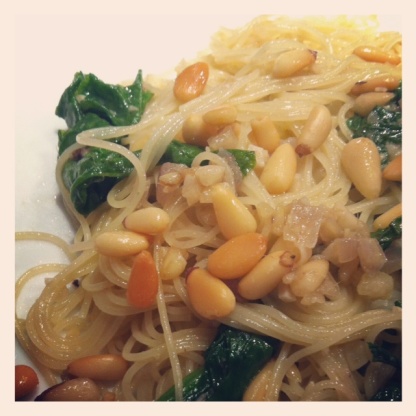 Pasta With a Anchovy, Spinach and Pine Nut Sauce
1 recipe photo
Directions
Spinach -- Just thaw and squeeze dry and set to the side. It will take only a couple of minutes to heat up in the sauce.
Pasta -- Again, takes just minutes for Angel Hair pasta to cook so make sure you sauce is done or at least started. This dish only takes minutes.
For the pasta cook according to directions - a large pot of salted water. when done, drain and set to the side to keep warm.
Sauce -- In a large saute pan, add the oil and and bring to a medium high heat. Add the pine nuts and toast until golden brown. They will only take a minute and stir often. Remove to a paper towel to let them drain. Then add the garlic and shallot and cook two minutes until they start to get golden brown, add the anchovies and cook another minute. Add the spinach breaking it up as you add it to the pan along with the butter and cook 2-3 minutes.
Pine Nuts -- I take about 1/2 or a little less and break them up a bit. You can just use the back of a fork or you can put them in a baggie and just hit them with the bottom of a pan or bowl to slightly crush them. You just want to break them up a bit.
Finishing -- Pasta should be done and drained. Simply add the pasta to the sauce pan along with the pine nuts, lemon juice and zest and toss well.
Garnish with fresh grated parmesan. Literally a 20 minute dish and absolutely delish! And if you think you didn't like anchovies, you will.
get the genius kitchen app.
Watch on your iPhone, iPad, Apple TV, Roku, or Fire TV.
Learn More