"This recipe is from the Pioneer Woman's blog (courtesy of her friend, Pastor Ryan). You can roast more than one chicken in the oven at a time (if you have room) and freeze extra cooked chicken, making it a very economical endeavor. *Notes*: You can use dried herbs in place of the fresh, just be sure to use leaves (not ground spices), and use 1/3 of the amount that is called for. Also, the ingredients/instructions are what is required for EACH INDIVIDUAL chicken that is prepared. The chicken might be nice served with a vegetable and Italian bread, or atop
Pasta with Mushroom Garlic Sauce
. Enjoy!"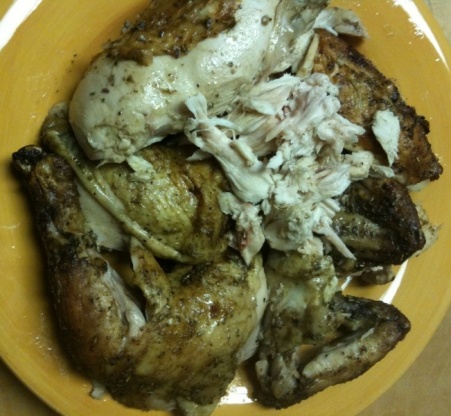 Pastor Ryan's Herb-Roasted Whole Chicken
1 recipe photo
READY IN:

1hr 25mins

SERVES:

3

UNITS:

Metric
1

broiler-fryer chicken (3-4 lbs.)

aromatic bitters (something to stuff inside the chicken -- onion, lemon, garlic, etc.)

29.58-44.37

ml canola oil (I use olive oil)

14.79

ml salt (kosher is best)

4.92

ml pepper

14.79-29.58

ml fresh herb, chopped (such as sage, rosemary, thyme)
Directions
Preheat your oven to 450 degrees while you pick the herbs from their stems. Chop the herbs and add them, along with the salt and pepper, to the canola oil; stir.
Before applying the herb mixture to the outside of the chicken, take out the bag of giblets and discard them (if there is one), and fill the cavity of the bird with the aromatics. You won't be eating these items, so you can just give them a rough chop / slice / mash.
Stuff the aromatics into the nether regions of the chicken. No need to tie the bird, but if the legs are sticking out far (which can cause them to overly-brown), you can put a slice in the skin, and stick the leg into that.
It's important that your whole chicken be patted dry with a clean cloth or paper towel. This will help to ensure a nice crust on your chicken once it's finished.
Rub the chicken down with your canola-herb-salt-pepper mix.
Slide your herb-coated chicken(s) into that 450 degree oven for an hour to an hour and fifteen minutes until they are golden brown and have developed a delicious crust.
The chicken is done when juices between the breast and leg run clear, and an instant-read thermometer inserted deep into the thigh reads 155 degrees F (I found 1 hour and 5 minutes at 450 degrees F worked perfectly for me in my conventional oven).
Once the chickens have roasted, take them out and let them rest for 10-15 minutes before carving.
Serve over pasta, or with any sides.