"I learned how to make these from my boyfriend, who grew up in the Canal Zone in Panama. They are easy to make & taste great. We eat them as an appetizer or snack before dinner or w/ lunch. They are best hot out of the skillet, sprinkled w/ salt & dipped in ketchup (Maggi ketchup is best, if you can get it), like french fries."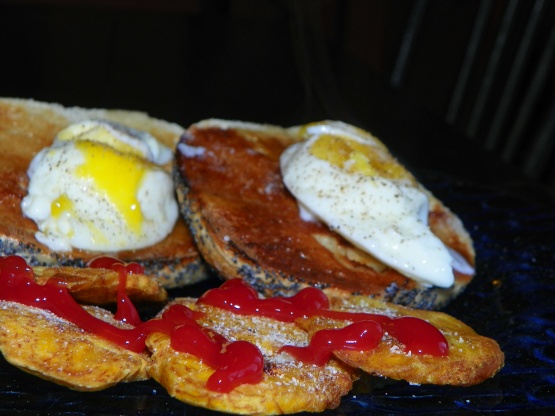 Patacones (Fried Green Plantains) - Panamá
2 recipe photos
Directions
Put the 4 cups warm water & ~1 Tbsp salt in a large bowl. Set aside.
Cut ends from each plantain w/ a small, sharp knife, then cut lengthwise slit thru peel. Beginning at slit, pry off peel (getting your thumb between the peel & the plantain helps).
Cut plantains crosswise into 1-inch thick pieces & place in bowl of warm salted water. Let sit 15-20 minute (This step adds flavor & also gets rid of some of the starch from the plantains.).
Heat oil (enough so that it is about 1/2" deep) in a 10-12" heavy skillet over MEDIUM heat until the oil is just hot enough to sizzle when a small "tester" piece of plantain is added.
Remove plantain pieces from the water & blot (completely) dry w/ paper towels.
Place plantain pieces in the oil (do not crowd the skillet w/ plantains; do 2 batches if needed). Fry plantains, turning occasionally w/ tongs, until tender & just beginning to turn golden color, ~5-7 minutes.
Remove plantain pieces w/ tongs to a flat (non-stick) surface. Spray the bottom of a glass tumbler or mug w/ non-stick cooking spray. Using gentle pressure, flatten each plantain piece to ~1/4" thickness. Slide glass off of plantain.
Return flattened plantains to oil (over MEDIUM heat). Fry (turning occasionally w/ tongs) until plantains are golden brown in color, 3-4 minutes.
Transfer plantains to a plate w/ a fresh paper towel, but DO NOT BLOT. Sprinkle w/ salt & serve immediately, w/ ketchup (optional).