"When it's finished, this one looks just like the holiday ham that Harriet Nelson (The Ozzie and Harriet Show for you youngsters) would have made! In other words, it looks like those beautifully-decorated '50s Thanksgiving hams. The integral ingredient is a 10-12 pound SMITHFIELD HAM, which is the only type I ever prepare nowadays, subsequent to much personal frustration and disappointment with boneless hams over the years. Smithfield hams, which come from Virginia, can be found in with all the other hams at most grocery outlets, or, you can order one online which is much more expensive. While bone-in Smithfield hams are generally not the most expensive ones at the grocery, to me, these hams produce the very best flavor, and the final presentation at the table is really just magnificent. If you want to bake this ham, not by time, but by using a temperature probe, go right ahead -- that will work just fine. Anyway, this is my brother's favorite dish and he nudges me to make it more often than just on holidays. I hope you have as much fun with this recipe as I do. pat, the old bone man."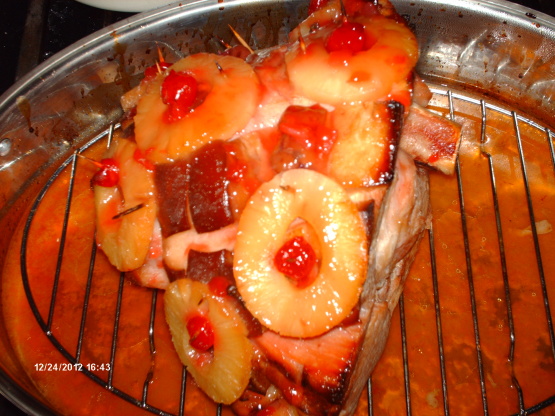 Patrick's Holiday Bone-In Ham
1 recipe photo
READY IN:

4hrs 20mins

SERVES:

10

UNITS:

US
1

(8 -10 lb) Smithfield Ham, bone-in

8

ounces glaze, for ham (I use Bell-View brand)

8

ounces maraschino cherries

20

ounces canned pineapple, slices, with juice

8

ounces water

4

tablespoons butter, melted (optional)
Directions
Remove the outer protective plastic from the thawed (if frozen) ham. "Score" the ham slightly by taking a sharp knife and cutting criscrosses, about 1 1/2 " apart on the top and sides of the ham. These slices just need to barely cut through the outer skin -- after the ham bakes, they become much bigger.
Preheat the oven to 350-degrees F.
Using round toothpicks, attach the pineapple slices all over the outside of the ham -- reserve the juice. Using more toothpicks, secure a maraschino cherry in the middle of each pineapple slice.
Using a large roaster pan, (or, two aluminum "throw-away type" roasting pans, one fitted inside another for added stability), place some sort of rack in the bottom to raise the ham slightly off the bottom of the pan. Pour in the water and then set the ham on the rack. Pour the pineapple juice over the ham. Brush half the ham glaze (you can use your fingers) on the ham and then cover with lid, or "tent" with aluminum foil. Mainly, you don't want the lid or aluminum foil to make much contact with the ham -- if a few toothpicks pop through, that's okay.
Bake on the second from the lowest rack, 20 minutes per pound at 350-degrees F. (e.g., a ten-pound ham would bake for about 3 hours and 20 minutes).
Halfway through baking time, remove the lid or aluminum foil and baste the ham with the juices in the pan, just enough to re-wet the entire ham. Return to oven covered as before.
At the end of the baking time, re-baste it, brush on the remaining ham glaze, pour the melted butter over the ham (if using), and re-set the oven to BROIL, on HIGH if there is a broiler setting. Place the ham in the roaster pan, uncovered, under the broiler for just a few minutes to render the glaze and brown it up some. Don't worry about small black tips -- this is normal. KEEP A CLOSE EYE ON THE HAM IN THE BROIL MODE OR YOU CAN EASILY BURN IT UP!
When the ham looks good, remove it from the broiler, allow it to sit for at least 20 minutes uncovered so that the juices will re-disperse within the meat, remove all toothpicks, and then slice it for serving.
Note: Use the juices/drippings from the ham to make great-tasting Red-eye Gravy. Just pour all the drippings into a skillet and whisk in about 2 tablespoons of Wondra flour, (or cornstarch for clearer gravy), whisking constantly, over medium heat, until it thickens. If you don't have enough drippings, or if your gravy gets too thick, just add a little canned chicken broth.