"If you wanted something as elegant and tasty as fresh crab cakes but you don't have the money just now, this dish is a great alternative! These are not your run-of-the-mill salmon patties, nope. These are moist, thick, flavorful (yet mild) salmon cakes with a lot of eye appeal. They are certainly worth spending a few extra minutes on the details of this recipe. I love these for brunch with an old friend over a glass of Pinot Grigio or, as a light main entrée with green beans and some creamy pasta for side dishes. I usually try to submit versatile recipes in which changes make little difference but since this recipe involves only a small amount of canned salmon (you get about 1 ½ cans of salmon from the two cans once it's been totally cleaned), any substitutions may significantly alter the flavor. I have listed a couple of viable substitutions that have worked out well for me in a pinch. Make this dish for someone special and, Bon Appétit, my good friends!"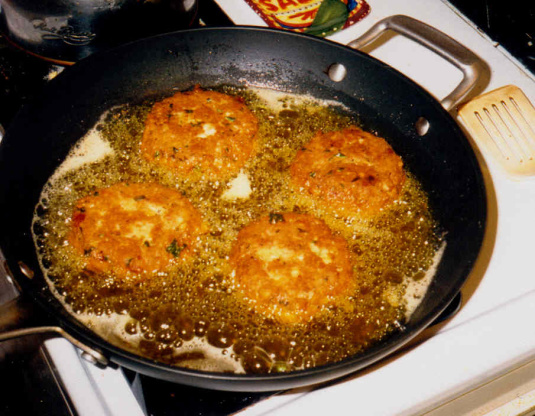 Pat's Gourmet Salmon Cakes
2 recipe photos
30

ounces canned salmon, drained, de-boned, and cleaned (two 15-ounce cans)

2

cups oyster crackers, whole

6

tablespoons mayonnaise

2

large eggs, beaten

3

tablespoons pimientos (canned, drained and diced)
1⁄3 cup fresh parsley, chopped

1

tablespoon fresh lemon juice, strained

1

teaspoon dried basil

1

teaspoon rice vinegar (sub., white wine vinegar)
1⁄2 teaspoon kosher salt
1 1⁄2 teaspoons prepared yellow mustard
1⁄2

teaspoon Mrs. Dash seasoning mix (sub., Italian dressing dry mix)

1

teaspoon Old Bay Seasoning (sprinkled on frying cakes)

2

cups Crisco shortening, butter flavored (for frying)
Directions
Drain canned salmon and carefully remove all bones, skin and dark brown material. Take your time in doing this -- all remaining salmon should be light pink when you're finished.
In a large mixing bowl, combine salmon, mayonnaise (not Miracle Whip), beaten eggs, pimientos, parsley, lemon juice, basil, vinegar, salt, mustard, and Mrs. Dash seasoning, (but NOT the Old Bay). Mix carefully with a spatula -- the mix will be runny at this point.
Crush the oyster crackers by hand and add them to the mix which should make the blend stiff enough to make up the salmon cakes -- you do not want a "dry" mix.
In a large skillet, heat the Crisco over high heat until a few drops of water in the oil crackles and pops. If you cut down on the amount of shortening, the sides of the salmon cakes will not brown up properly and you'll experience a temperature drop in the oil which can result in a greasy end product!
Make up the salmon cakes so that they look like "fat" burgers, (gently make them up, taking care to not "squeeze" them together -- they will flatten out on the tops and bottoms by themselves as they fry), laying them on a large plate, (I get 7 thick ones, about 3" across), and then sprinkle on the Old Bay seasoning.
When the cooking oil is hot enough, (they should start frying immediately -- if not, the oil is too cold!), lay in the salmon cakes. Don't crowd them or you'll drive down the oil temperature -- I always make two batches with 3-4 patties in each.
When one side has reached a deep golden brown, (about 4 minutes), carefully turn the cakes and allow the second side to brown. As soon as they are browned equally on both sides, remove them to a plate with a couple of paper towels on it to soak up excess oil. Do not overcook them -- when they're brown, they come out! Serve while still hot.
NOTE: Do not mash these salmon cakes with a spatula as they fry because they will be very dry-tasting if you do.
get the genius kitchen app.
Watch on your iPhone, iPad, Apple TV, Roku, or Fire TV.
Learn More