"It's just not fair for kids who hate some of those "adult" appetizers that have fancy stuff on them like olives and Brie and other stuff they've never tasted or even heard of. This will suit their taste buds and even be "fancy" enough to make them feel all grown up. It's cheap and easy enough for Mom to throw together for play dates or when a friend drops by with their kids in tow. Also easy enough to substitute diabetic jam for a sweet treat for those who have to go sugarless."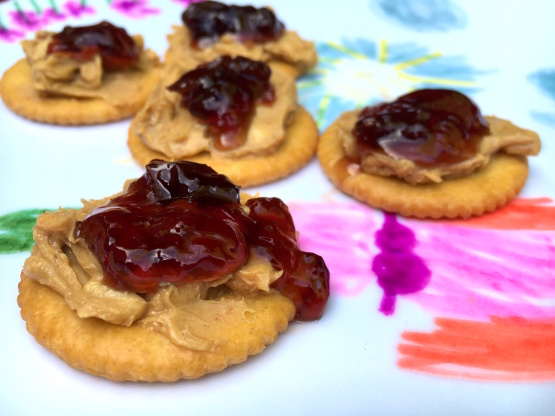 Pb&j Appetizers
4 recipe photos
32

saltine crackers or 32 Ritz crackers or 32 townhouse crackers, whatever

16

teaspoons creamy peanut butter (1/2 tsp. for each cracker)

8

teaspoons jam or 8 teaspoons jelly or 8 teaspoons preserves, 1/4 t for each cracker
Directions
Smear on the peanut butter.
Smear on the jam.
Place on a pretty tray and serve to everyone.
NOTE: If you're having a party and want to let your guests choose their toppings, set out crunchy and smooth P.B. and several jars of various jams, jelly, and preserves, all-natural fruit, etc. and let your guests make their own.