"This was also posted as a request on the boards. I haven't tried it yet, but plan to when our young peach tree starts producing in the next year or two. I think this would work with or without the rum. Cook time includes processing time only."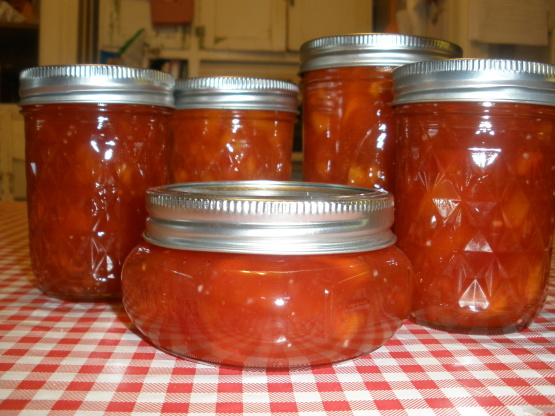 Peach Conserve with Rum
1 recipe photo
3

tablespoons orange rind, slivered

2⁄3

cup orange pulp, chopped and seeded (about 1 medium)

1⁄2 cup light rum

2

cups peaches, peeled,pitted and chopped (about 3 large)

3⁄4 cup pineapple, crushed
1⁄4-1⁄2 cup maraschino cherry, chopped

3

tablespoons lime juice
6 1⁄2 cups sugar
1⁄2 teaspoon salt
1⁄2 teaspoon ginger
1⁄4 teaspoon mace
Directions
Combine orange peel and pulp with just enough water to cover in a small saucepan.
Cook until peel is tender; set aside.
Put opened container of rum in hot water; set aside.
Combine reserved orange mixture with peaches, pineapple, cherries and lime juice in a large saucepot.
Add sugar and spices, stirring until sugar dissolves.
Cook almost to gelling point.
As mixture thickens, stir frequently to prevent sticking.
Remove from heat.
Stir in hot rum.
Ladle hot conserve into hot sterilized jars, leaving 1/4-inch headspace.
Adjust two-piece caps.
Process 15 minutes in a boiling-water canner.
Remove from boiling-water.
Cover with a dry towel.
Allow to stand until caps seal and jars cool.