"Clear Jel is a modified food starch (powdered form) that will not break down in high heat during processing. DON'T SUBSTITUTE!! Clear Jell is well worth the effort, it leaves a cleaner and thicker filling that is simply delicious. Kitchencraft (1-800-776-0575) in Waterville, IA sells it by the 1# ($3.25 + S&H) or 5# bags. Also sold by Bakers Catalog (King Arthur Flour) and also at http://www.homecanningsupply.com/. Oh, now that about does it, Amazon.com even sells the stuff!"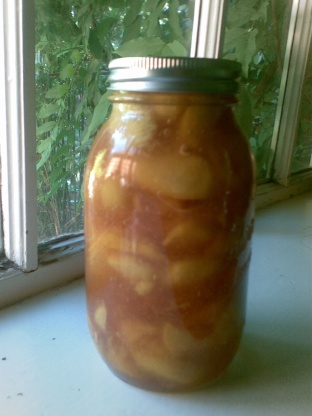 Peach Pie Filling
1 recipe photo
Directions
Wash peaches or nectarines, peel peaches and cut fruit into 1/2 inch slices.
To prevent darkening, place fruit in ascorbic acid solution (this can be found right next to the canning supplies in your local stores, it's in a small green canister); drain well. Measure 24 cups fruit. Set aside.
In a 8-quart dutch oven or pot heat about 6 cups water to boiling.
Add 6 cups peach slices; return to boiling. Boil for 1 minute.
Using a slotted spoon, transfer peaches to a large bowl; cover.
Repeat with remaining fruit, 6 cups at a time.
Drain water from the pot.
In same pot combine sugar, Clear Jell, cinnamon and nutmeg and stir in the 4 1/2 cups water.
Cook over medium-high heat, stirring constantly, until mixture thickens and begins to boil.
Add the lemon juice; boil 1 minute, stirring constantly.
Stir in the almond extract.
Immediately add fruit, stirring gently to coat.
Heat for three minutes.
Spoon hot fruit mixture into hot, clean, sterile quart size canning jars, leaving 1-inch headspace.
Remove air bubbles, wipe jar rims, and adjust lids.
Process filled jars in a boiling water canner for 30 minutes.
Remove jars from canner; cool on wire racks.
Makes 6 quarts (enough for 6 pies).
To use pie filling: Spoon 1 quart filling into a pastry lined 9-inch pie pan. Dot with 1 tablespoon butter or margarine. Cut slits in top crust; adjust top crust. Seal and flute edges. Cover edge of pie with foil. Bake in a 375 degree oven for 25 minutes; remove foil. Bake 25-30 minutes more or until pastry is golden.
get the genius kitchen app.
Watch on your iPhone, iPad, Apple TV, Roku, or Fire TV.
Learn More