"I found this recipe in one of my books from culinary school and kind of made it my own. It is seriously amazing, my whole family has tried it and they all have given me rave reviews. You can make it a cooler pie for the summer by omitting the cinnamon, or make it warmer for a winter holiday by adding it in! Either way, this pie is amazing. It takes a little while to prepare but the end result is worth it. Another way to make it even more amazing is to add 2 tablespoons of almond extract into the pie crust that you prepare for this filling. Its a small thing, but it changes the flavor a lot. Refer to my struesel recipe or use your own, but the struesel is needed to this pie to work properly. And the recipe means two 15 ounce cans of peaches, not 15 ounces altogether. You can also use fresh peaches, 1 pound 4 ounces is good for a 9in. pie."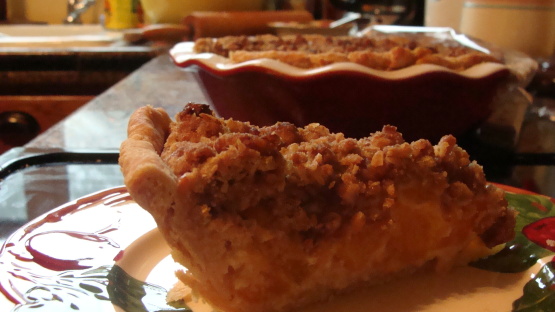 Peachy Cream Pie
1 recipe photo
Directions
Prepare streusel and pie crust ahead of time.
Strain peaches from juice as much as possible. If the slices are a little thick, cut them in half lengthwise. Thinner peach slices cook better.
Cream the cream cheese with the sugar until softened and then mix in sour cream and cornstarch until smooth.
Add eggs, vanilla, nutmeg and cinnamon.
Carefully fold in peaches.
Fill into unbaked pie shell and top with struesel.
Bake at 415 degrees for 40 minutes. You may have to put foil over the top to keep struesel from burning if the filling isnt done yet.
A way to tell if its done is if you jiggle it slightly, and it doesn't slosh like a liquid then it is probably done. Or in other words, If it jiggles as one, it's done.