"This is from Jessica Seinfeld's Deceptively Delicious Cookbook. I have not made these, but am posting recipes from this book upon request."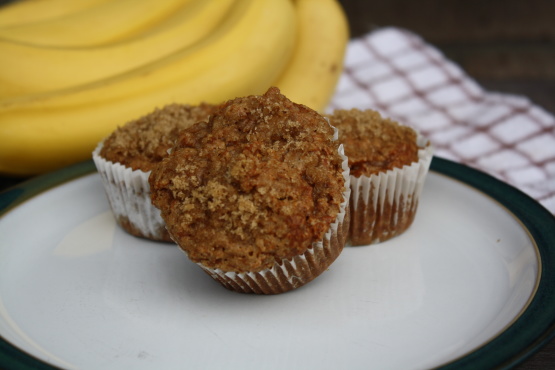 Peanut Butter and Banana Muffins
1 recipe photo
Directions
Preheat oven to 350. Spray muffin tins with nonstick spray.
Combine 1/2 cup brown sugar, peanut butter, vegetable puree, banana, and egg in a large mixing bowl. Jessica says use a large wooden spoon.
Mix the flour, baking powder, baking soda, and salt. I'd put it in bowl and combine with a whisk, but Jessica suggests putting them in a ziptop bag and shake.
Fold the dry mix into the wet mix and combine until just lumpy. Don't overmix, these are muffins. Add the remaining 1/2 cup of brown sugar and stir once or twice. Jessica says this puts a crust on the top of the muffins.
Divide the batter between the muffins. Cook until lightly brown and a toothpick comes out clean. 15 to 20 minutes.
Store at room temp for up to two days, or freeze for up to a month.