"This is just a recipe I came up with when I was in the mood of tinkering a little, rather than following a recipe. Even people who like peanut butter have told me this is VERY peanut buttery, so you've really got to love it for this recipe!"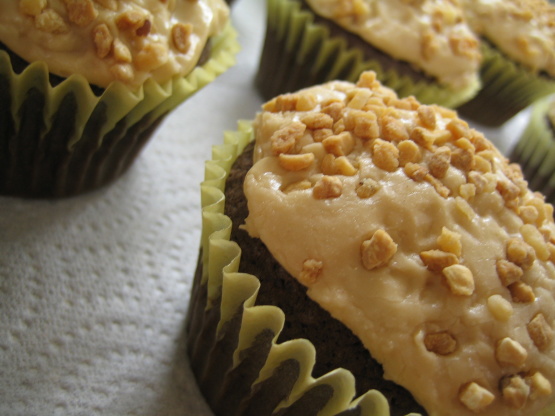 Peanut Butter and Dark Fudge Brownie Cupcakes (Mix)
5 recipe photos
Directions
For the cupcakes:.
Preheat oven to 350°F.
Combine the brownie mix, eggs, and milk in a bowl, and mix until combined. Add the peanut butter and mix until incorporated. If the batter is too thick, add the water.
Spoon the batter into paper-lined cupcake tins. Bake for 25 minutes, or until a toothpick inserted into the center of a cupcake comes out clean. Allow to cool.
For the frosting:.
Whisk together the water and powdered sugar; once combined, add the peanut butter and mix until smooth. Spread on cooled cupcakes, and top with peanut brittle or chopped peanuts if desired.