"Except for pies & bread, my wife does most of the baking. I'm a "dunker" & I LOVE to quickly dunk these in a cup of coffee w/ cream...MMMMMMMMMMMMMM!!!!!!"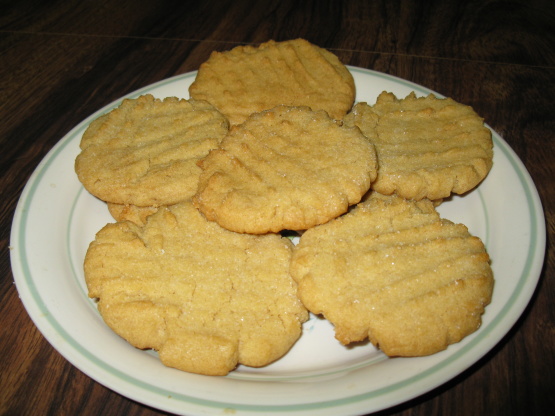 Peanut Butter Cookies
1 recipe photo
Directions
Preheat oven to 350°.
Cream together the butter & sugars.
Add the eggs & beat.
Add the Peanut Butter & beat again.
Sift together the flour, baking soda & salt & add to mixture.
Mix until well blended, being careful NOT to overmix!
Roll into balls about the size of a Walnut & place on cookie sheet about 1½ inches apart.
Take a heavy glass or pint jar & dip the bottom of it in a small amount of sugar & lightly mash down each ball. If desired, take a fork & press down a little bit more to make a criss-cross design on top.
Bake 12-15 minutes.