"I find that all dogs seem to like peanut butter...you can add anything you want to the mixture as long as theres the peanut butter! Be sure to turn biscuits over half way through, we don't want dark bottoms, do we now?!!!"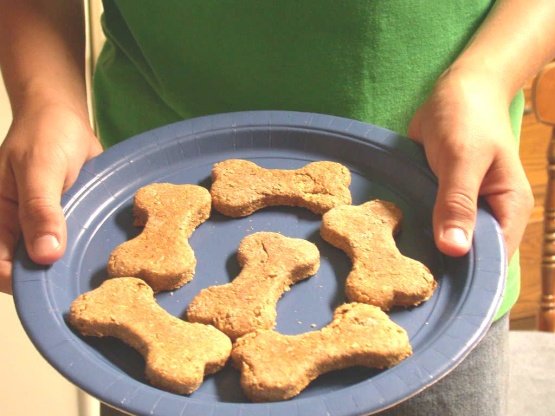 Peanut Butter/Graham Dog Biscuits
5 recipe photos
Directions
Using mixer with a dough hook, add all ingredients EXCEPT flour, mixing well Add flour gradually until dough is stiff enough to handle and roll into small balls.
Place lower oven rack ABOVE middle rack Preheat oven to 300 f place balls onto one large cookie sheet and flatten slightly with bottom of glass or finger.
Place on top rack.
Bake for 90 minutes, turning biscuits over half way through.
lower temperature to 225 f and bake for another 45 min.
approx.
test occasionally.
test for doneness by taking one out, let cool, and break apart.
It should be crisp and hard like milk bones.
when done, remove from oven and let cool.
store in air tight container.
If you cannot get all biscuits on one cookie sheet,use two,and when you turn biscuits over, and return to oven alternate the racks you had the sheets on.