"My younger brother and I would always take our potato chips and put them inside our PB&J sandwich. We loved the crunch! And, the saltiness of the chips really off-sets the sweetness of the sandwich. I think we got the idea from an episode of the Cosby Show after seeing Cliff Huxtable line his hoagie with potato chips and wash it all down with grape soda!"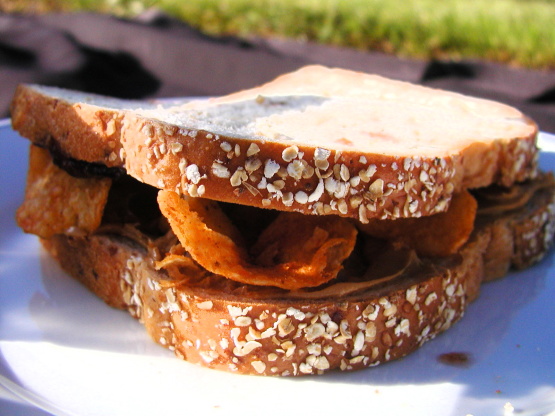 Peanut Butter, Jelly, and Chip Sandwich
5 recipe photos
2

slice bread

jelly, your favorite flavor

chips, your favorite kind
Directions
Spread one piece of bread with peanut butter.
Top the peanut butter with a layer of chips.
Spread the other piece of bread with jelly.
Put the two pieces together, press down until you hear the "crunch", and enjoy!
(This is also good with a PB & Marshmallow Fluff sandwich.).