"Weight Watchers points per serving: 2 pts"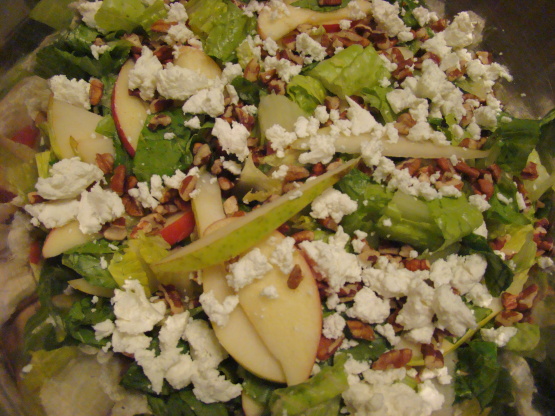 Pear and Goat Cheese Salad
1 recipe photo
1⁄4 cup pecans (about 1 ounce)

3 -4

cups salad greens, torn

2

ounces goat cheese or 2 ounces chevre cheese

2

tablespoons balsamic vinegar

1

teaspoon sugar

1

tablespoon olive oil
Directions
In a small skillet, dry roasted pecans over medium heat for 1 to 5 minutes; stirring frequently. Finely chop.
Meanwhile, arrange ½ cup salad greens on each of eight plates; set aside.
Cut pears in half lengthwise. With a melon baler, remove seeds and make a small, round cavity in each pear half.
Cut cheese into eight pieces; shape each into a ball. Roll in pecans and place one in each pear cavity. Arrange pears on lettuce.
Pour vinegar into a small bowl; add sugar, whisking until dissolved.
Add oil in a fine stream, whisking constantly until smooth. Drizzle evenly over pears; sprinkle with any remaining pecans.