"Ready, Set, Cook! Reynolds Wrap Contest Entry. Inspired by the numerous delectable pastries and tartlets you see in the bakery windows in Paris. The honey and lavender helps accentuate the pears and peach fruit. These are simple to make yet so tasty and eye pleasing. A wonderful breakfast compliment, after school snack and after dinner dessert!"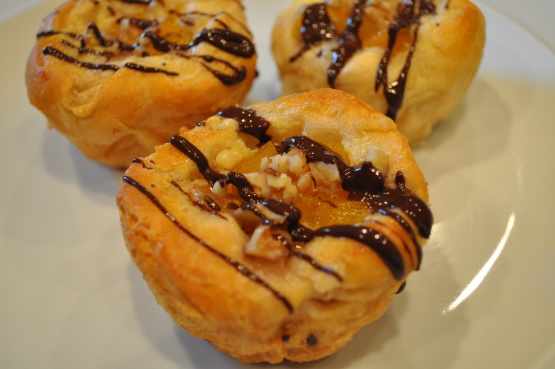 Pear & Peach Delight Bites #RSC
1 recipe photo
Directions
Preheat oven at 350oF.
Take muffin tray and line each muffin cup location with Reynolds Wrap® Foil. Alternatively, I sometimes use Reynolds Baking cups for ease.
Separate biscuit dough and slice each biscuit round in half with a sharp knife.
Place 1 biscuit dough in each muffin cup. Press dough in bottom and sides.
In a bowl, add cream cheese, egg, sugar, honey and nutmeg. Beat until well mixed.
Cut pears into 1/4 inch chunks and fold it into cream cheese mixture.
Spoon in the cream cheese mixture into each muffin cup filling each cup about half way up. Save any left-over cream cheese mixture for the next batch.
Cut peaches into 1/4 inch chunks.
Finely chop lavender.
In a bowl, mix peaches and lavender.
Spoon in peach mixture into each muffin cup.
Finely chop walnuts and sprinkle walnuts on each muffin cup.
Cover muffin tray with Reynolds Wrap Foil.
Bake for 15 minutes. Remove foil tent and save foil for later use.
Continue baking for 20 minutes or until biscuits are golden brown. Cool.
Carefully remove each cooled foiled biscuit from the tray and peel away bottom foil. Place biscuits on the Reynolds Wrap® Foil cover you saved.
In a glass bowl, combine chocolate and shortening.
Microwave on high in 30 second increments, stirring after each increment until chocolate is melted.
Dip a fork into the chocolate mixture and drizzle chocolate on cooled biscuits. Enjoy!