"These wonderful little tartelettes are made from a combination of ripe, sweet pears with tangy, sharp Roquefort blue cheese and aromatic rosemary.They make an excellent and very elegant starter; they are also wonderful if served as a light luncheon dish, with salads and chutney or pickles. The galettes can be assembled several hours in advance - or even the night before - then chilled until you are ready to bake and serve them. I have stipulated shortcrust pastry - but puff pastry can also be used."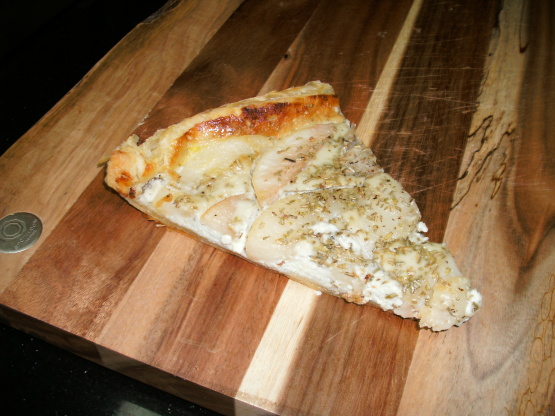 Pear, Roquefort and Rosemary French Galettes - Tartelettes
4 recipe photos
Directions
Put the blue cheese into a bowl and lightly crush or mash it. Add the whisked egg whites and the creme fraiche.
Add salt and black pepper to taste and mix it to a coarse paste.
Set aside and then chill it.
Roll out the pre-prepared shortcrust or puff pastry. Using a plain or fluted 5" cutter, cut out four circles.
Put them on a lightly greased baking sheet and prick them all over with a fork.
Carefully spread the chilled blue cheese mixture all over them, leaving a border of about 1/2" to 3/4".Then sprinkle them with the finely chopped fresh rosemary leaves & store in the fridge.
Pre-heat the oven to 220C/400F/Gas 6.
Melt the butter in a shallow large pan & then add the pear slices, and about 3-4 tablespoons of water.
Cook gently for about 6-8 minutes until the pears are tender but still holding their shape. Allow to cool.
Arrange the pears over the chilled galettes in neatly overlapping circles and brush with a little melted butter.
Sprinkle over the cumin seeds and a few extra rosemary leaves, season with salt and pepper and bring the edges of the pastry up and over the edge of the pears, to form a loose crust.
Brush the tops of the galettes & the pastry with the beaten egg yolks & milk mixture.
Bake for 15-20 minutes until golden brown.
Cool the galettes slightly before serving with salads, pickles or chutney.