"There were a lot of good looking recipes kicking around here for various pear jellies and jams, but none were quite what I was looking for. So I tinkered with existing recipes and came up with this one. It's very sugary sweet, which scared off some friends of mine when they tasted it straight out of the jar. (TIP: never leave jars of jam out around your hungry bachelor friends!) When they came to their senses and tried it on something (toast, waffles, biscuits, oatmeal, etc.), they were won over. This goes great with peanut butter too. (I make this with a mix of half Bosch and half Asian pears.)"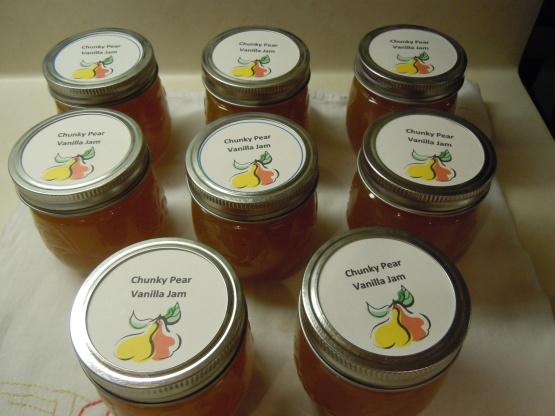 Pear Vanilla Jam
1 recipe photo
Directions
Peel, core and quarter the pears. (While you're doing this, add the cut pieces to a large bowl of water with some lemon juice squeezed in, to prevent darkening.).
Drain the pears, and transfer them to the work bowl of a food processor. Pulse them a few times. You're looking to get them chopped, not to puree them.
Grate a couple pinches of fresh nutmeg over the sugar.
Add the pears, sugar, and lemon juice to a large pot, and bring to a boil, stirring occasionally.
Simmer 40 minutes. You may have to stir frequently to prevent burning.
Remove the mixture from the heat, and stir in the vanilla extract.
Spoon into hot jars, leaving 1/2 inch head space. Wipe the jar rims and adjust the lids.
Process in boiling water for 10 minutes.
get the genius kitchen app.
Watch on your iPhone, iPad, Apple TV, Roku, or Fire TV.
Learn More