"Crusty outside and moist inside. A great bread for beginners!! So good with soups and stews or as a conatiner for spinach dip!! Allow 2 to 10 hours to make and ferment the starter."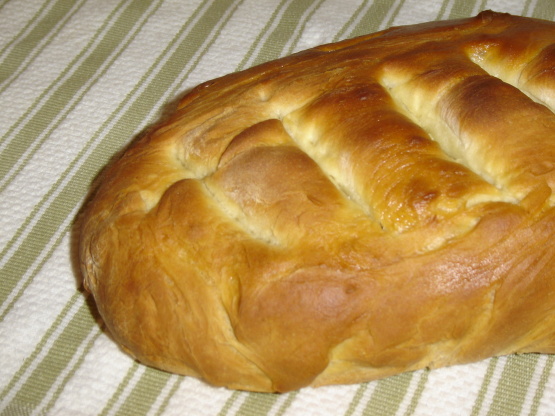 Peasant Bread
2 recipe photos
Directions
Starter: The water should be at room temperature.
Combine the water and yeast in a small bowl.
Let stand I minute, then stir until yeast is dissolved.
Add the flour.
Stir vigorously for about 100 strokes.
Scrape down the sides of the bowl then cover with a clean towel or plastic wrap.
Place in a warm (75 F) place until mixture is bubbly (2 –10 hours).
Place the starter into a large (6-quart+) bowl.
Dough: Add the water and yeast to starter.
Add 1 cup, of flour and stir until it is well combined.
Add the salt and only enough of the remaining flour to make a thick dough that is difficult to stir.
Turn the sticky dough out on a floured work surface.
Dip your hands in flour then knead the dough by pushing it down and forward with the heel of one hand, then pulling back from the top and folding the dough over with the other.
Gradually add the remaining flour as you knead for 15 minutes.
Dough will be strong and slightly sticky and will spring back when poked.
Shape dough into a ball.
Return dough to the bowl that has been coated with olive oil.
Brush top of dough with a bit of olive oil,.
Cover with a clean damp towel and place in a warm place until doubled in volume.
Deflate the dough, place on lightly floured work surface.
Knead briefly.
Cut dough into 2 equal pieces.
Knead briefly.
Shape each piece into a tight ball.
Place on a greased baking sheet.
Cover with a clean damp towel and put in a warm place until doubled in volume.
Preheat oven to 450 F and place oven racks to center of oven.
Place a pan of water under the rack where the loaves will bake.
Using a sharp knife score the loaves with cuts 1/4- to 1/2-inch deep along the surface.
Place loaves in the hot oven.
Bake for about 20 minutes.
Reduce heat to 400 degrees F and bake another 15 to 20 minutes.
Remove from oven and allow to cool for 1/2 hour.
Brush tops with a bit more olive oil if you wish.