"My cousin sells gourmet coffees and cake mixes, etc. She had this Pecan Pie Muffin Mix, she gave me a package to try... it was instant love! They are delicious. I read the label, remembered the ingredients, and instantly came to the computer to start my search. I found this on AmericanProfile.com. I think this is the exact recipe, because I had to add 2 eggs and 2/3 cup melted butter to the mix."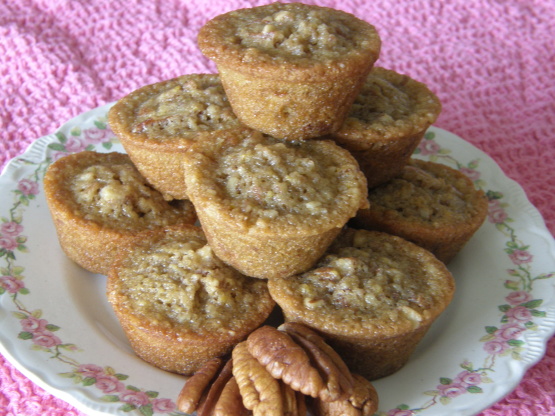 Pecan Pie Muffins
2 recipe photos
Directions
Preheat oven to 350 degrees.
Mix all ingredients in a bowl with a wooden spoon.
Pour into a greased mini-muffin pan, filling each cup about 2/3 full. (I used a normal size muffin pan, filling the cups 2/3 full).
Bake 12 to 15 minutes. (For larger muffins, I baked for about 20 minutes).
Take from oven and let cool completely before serving.