"A nice little tidbit to have with cocktails. They melt in your mouth and are very tender."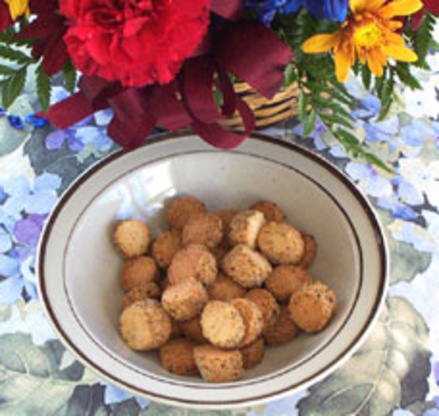 Pecorino and Pepper Coins
1 recipe photo
Directions
In 1-cup microwave-safe glass measure or bowl, heat wine in microwave on High 6 to 7 minutes or until reduced to 1 tablespoon.
Cool 10 minutes in refrigerator.
On waxed paper, combine flour, salt, and 1 cup Romano.
In large bowl, with mixer at medium speed, beat margarine and sugar until creamy, about 2 minutes.
Beat in wine.
With mixer at low speed, beat in flour mixture until blended.
On 16-inch-long sheet of waxed paper, mix pepper with remaining 1/2 cup Romano.
Line 2 large cookie sheets with parchment paper.
Divide dough into 8 equal pieces (each about heaping 1/4 cup).
Roll each into 13" by 1/2" log.
Roll logs in cheese mixture.
Wrap each log in plastic wrap and slide onto cookie sheet for easier handling.
Freeze at least 15 minutes or until dough is firm enough to slice.
(Or, place dough in refrigerator about 1 hour.) Meanwhile, preheat oven to 350 degrees F.
Remove 1 log from freezer at a time; discard plastic wrap.
Cut log into 1/2-inch-thick coins.
Arrange coins 1/2-inch apart, on prepared cookie sheet.
Repeat with logs to fill 1 cookie sheet.
Bake 15 to 20 minutes or until golden.
Slide parchment onto wire rack; cool coins completely.
Repeat with remaining logs.
Store coins in tightly covered container at room temperature up to 1 week or in freezer up to 3 months.