"*** The description "Peppadews" is not accepted by the site, so I had to change it -- but it is NOT a bell pepper. Also called "piquante peppers", a peppadew is about the size of a golf ball or smaller. Although this pepper in its raw state is not available in the States, someone from South Africa has asked for a pickling recipe. Here is a great one, with which my sister and I pickled hundreds of bottles. The method can be used for any small peppers. In my family with a long history of canning/bottling we put clean bottles in a cold oven on an oven tin, heat oven to 325 deg F/ 160 deg C, and leave it there until needed (at least 15 minutes). This method has never failed us and our bottles keep perfectly -- without the hassle of the canning bath method. The amount of peppadews is a guess, as I never wrote that down! This recipe fills about 2 x 375 ml bottles. The peppadews shrink a little with cleaning and parboiling. Prep and cooking time are guesses."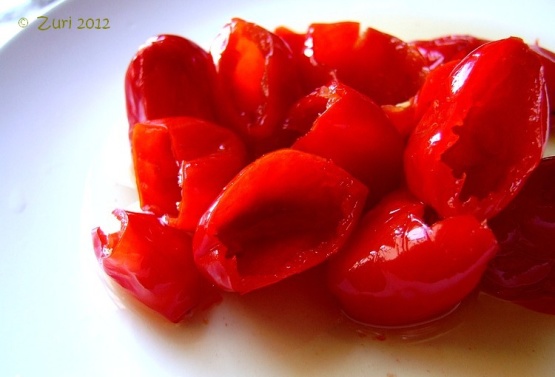 Peppadews (Piquanté Peppers): the Pickling Recipe
2 recipe photos
Step 1

500 -750

g piquante bell peppers (peppadews, red-ripe)

60

g coarse salt (koshering salt)

600

ml water

Step 2

375

ml vinegar (white grape vinegar preferred, not spirit vinegar)

300

ml sugar, white, granulated

250

ml water

4

pieces ginger, fresh, peeled

4

garlic cloves, peeled, whole

10

ml peppercorns (we like the mixed peppercorns)

2

small hot peppers (hot chillis, only remove stem, and keep whole)
Directions
DO wear surgical gloves (from any pharmacy), as the seeds start stinging the hands after a while!
Do the 1st Step the night before. Believe me, you'll find it is necessary!
Cut off the stem side of the peppadews, and carefully scrape out the seeds with a small teaspoon. Rinse. Try to remove all seeds.
Let the salt dissolve in the water. Then add the prepared peppadews. Make sure they're all in the brine by putting a plate or similar on top. Leave overnight at room temperature.
Next day, using squeaky clean bottles and caps, put on a firm tin and into a cold oven. Heat oven to between 160 - 170 deg Celsius
Now rinse the brine off the peppadews, rinse briefly with cold water, and leave in a colander to drain.
Measure out into a large pot all the ingredients given in Step 2 (except the little green chillies), and stir well over low heat until ALL the sugar has dissolved. Then bring to a rolling, foamy boil.
Add peppadews and chillis and boil them for only about 1 minute.
Take hot bottles from the oven (be careful). First fill the bottles with peppadews, and then fill to about 1 1/2 cm from the top with the boiling liquid.
Carefully wipe bottles round the top, and screw on the tops.
(My sister and I used bottles with metal tops, the kind in which some pasta sauces are sold. The bottles should pop softly as they seal. If any do not seal, keep to use first).
If sealed, will keep indefinitely.
get the genius kitchen app.
Watch on your iPhone, iPad, Apple TV, Roku, or Fire TV.
Learn More