"This is a delicious recipe from the December 2008 edition of Ladies' Home Journal. These are simple and look as great as they taste. Serve on a white platter with a red and white ribbon across the middle for a beauiful presentation."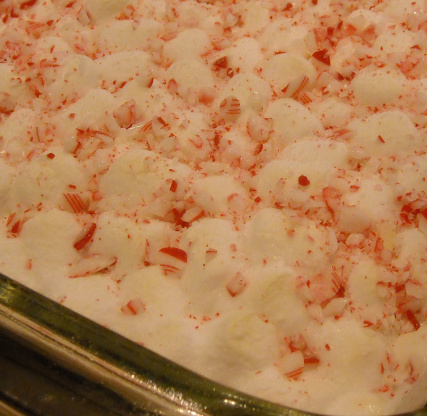 Peppermint Cloud Brownies
1 recipe photo
Directions
Preheat oven to 350 degrees F. Butter an 8-inch square pan and line with a strip of parchment overhanging on two sides. Butter parchment, set aside.
In a saucepan, melt butter, chocolate, and cocoa on low heat, stirring until smooth. Remove from heat and stir in sugar, eggs, flour, salt, nuts, milk and vanilla until combined.
Spread batter into prepared pan. Bake until just set, 20 minutes. Remove from oven.
Top with marshmallows and bake until marshmallows are puffed, another 5 minutes. Immediately sprinkle with peppermint.
Cool in pan. Loosen edges and lift brownies with parchment. Use a butter knife to cut into squares. Store airtight up to one day.