"This recipe differs from others in method - it produces bacon slices which are perfectly flat - better for sandwiches and some recipes which call for cooked bacon. You will not be using the 1/4 teaspoon water. Food.com will not let you upload a recipe that only has one ingredient, so I had to make up a second ingredient. I tried putting in "love" but it wouldn't let me. You should always be cooking with love, btw."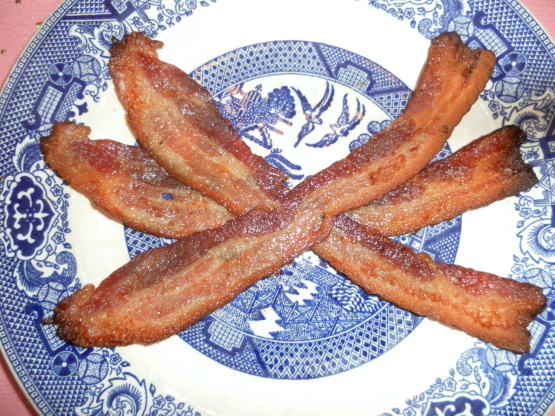 Perfect Oven-Cooked Bacon
1 recipe photo
Directions
DO NOT pre-heat the oven.
You will not be using the 1/4 teaspoon water. I had to add it to the ingredients list because Food.com will not let you upload a recipe that only has one ingredient, so I had to make up a second ingredient.
Place the bacon in a single layer on a cold, rimmed baking sheet. If you like, you can line the pan with parchment paper to make clean-up easier, but I like to save my bacon grease to cook with, and the parchment makes it difficult to get it all out of the baking sheet, so I just leave the pan unlined.
Place the pan on the center rack of a cold oven. Set the oven to 400º.
Cook for 15 to 20 minutes. Very thin bacon will only take about 15 minutes, thick-cut bacon will take 20. After 15 minutes, keep an eye on the bacon to make sure it is not getting too brown.
Immediately remove the bacon to a plate lined with paper towels.
Blot the top of the bacon with paper towels to remove extra grease.
If you like, save the bacon grease in a heat-proof container. The grease can be stored in the fridge and used later in other recipes - you just got two products for the price of one :).
get the genius kitchen app.
Watch on your iPhone, iPad, Apple TV, Roku, or Fire TV.
Learn More