"After not making pasta for 15 years, I have made it three times in the past week and this, my final attempt was the best and rolled perfectly for linguine. Posting so I remember the next time I make pasta......probably tomorrow! I used a mixer to assemble the ingredients, and a hand crank pasta machine to roll and cut the pasta."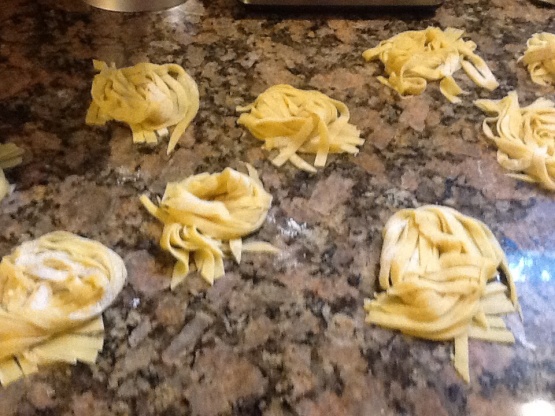 Perfect Pasta Dough
2 recipe photos
READY IN:

1hr 5mins

SERVES:

6

UNITS:

Metric
Directions
Place the first 5 ingredients in a mixer using the paddle attachment (not dough hook).
Gradually add the water (you may not need it all) until the dough begins to form a ball and is sticky.
Remove and place on floured service; kneed for 4-5 minutes incorporating enough additional flour into the dough until the tackiness is gone.
Allow to sit for 15-20 minutes.
Cut into 6 pieces, and flatten (with roller or by hand) into a rectangular shape. Keep a dish towel over the other pieces to keep them from drying out.
Run through the pasta machine at the widest setting 6-10 times until the dough is smooth. If one end is narrower than the other, fold the narrow end until the width evens a bit. To make linguine, I then begin narrowing the roller width step by step, sending the noodle though once on each setting, through the second thinnest setting. (Thinnest setting for spaghetti) Place on a lightly floured baking sheet and cover with another towel.
Repeat with the remaining pieces, slightly flouring in between noodles as you stack them. If the noodles are longer than your baking sheet, cut them in half with a pastry cutter.
Allow the noodles to sit for 10 minutes before cutting them. It usually takes me longer than 10 minutes to roll the noodles, so I flip the noodles over and start cutting the first one rolled.
Your sheets of noodles should no longer be tacky, and should process through the cutter without sticking. If the noodles are still sticky, you may want to flour them a bit before putting them through your cutter.
Place noodles through desired cutter and lay on baking sheet to dry for 10-20 minutes before cooking. Dust each batch with a tiny bit of flour and separate them with your fingers to ensure they don't clump.
Place in boiling, salted water and cook until they float to the top; 5 minutes or until your desired tenderness.