Want more from Genius Kitchen?
Watch on your Apple TV, Roku, or Fire TV and your iOS, Fire, or Android device.
Learn More
"When I was in college, I worked the counter at a local pastry shop where they made the most awesome tasting rugelach. Not only was the filling rich and delicious, but the pastry dough itself was truly a work of art: it was like a puff pastry. It took awhile to finally perfect this dough. It does take some planning and some patience, but the reward is well worth it."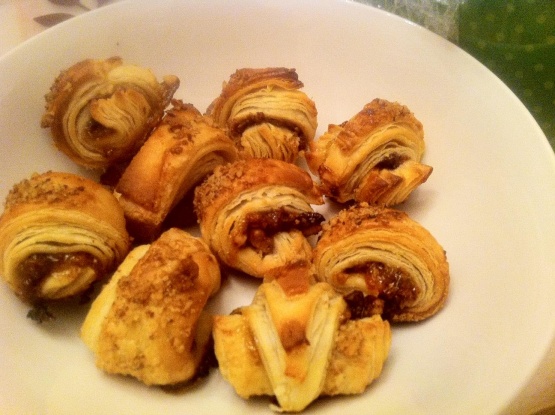 Perfect Rugelach
1 recipe photo
Directions
Making the Dough:
In a food processor, take 2 cups of your flour, add salt, lemon zest, and sugar. Add in cream cheese cut up in squares. Pulse until it comes together to form a ball.
Remove from food processor, and roll out into 8 x 12-inch rectangle. Cover with plastic and chill for two hours.
In the meantime, in a clean food processor bowl, take your butter that has been cut up into small squares and your remaining 1/4 of flour. Pulse until the flour and the butter have come together and the pieces of butter are about pea-sized.
Roll in between two sheets of plastic wrap until it is 4x6 inch rectangle. Chill also.
After two hours, use a probe thermometer to ensure that both the dough and the butter are at the same temperature. Roughly 60 F degrees.
Remove from fridge, and place your dough on a floured, chilled slap of marble or chilled cookie sheet. Add your block of butter in the middle of the dough, so that you can wrap the dough around it, like you are making an envelope.
Now, turn your envelope so that the shorter side is perpendicular to your body. Roll out gently with your rolling pin until it is 10 x 14 inches long. At this point you are going to fold it into another envelope. Again you will turn that envelope so that it is perpendicular to your chest, and you will wrap it in plastic and chill it for 10 minutes.
Ten minutes later, again you will place the envelope perpendicular to your chest, roll it out again to 10 x14 inches long, and refold it again back into an envelope. Turn it once more so that it is perpendicular to your chest. Wrap it in plastic and chill once more for 10 minutes.
Remove from fridge, place envelope perpendicular to your chest again. Roll out once again to 10 x 14 inches long. You are going to fold it one last time into an envelope, and this time you'll have to chill it for at least 6 hours.
Filling I:
Combine your walnuts, spices, chocolate chips and orange zest in a small bowl set aside. Keep your apricot jam separate.
Assembly:
You're going to take your envelope out of the fridge. You are going to place it perpendicular to your chest and you are going to cut in 3 equal parts.
Take each of these parts, again place the shortest end perpendicular to your chest and roll them out until they are approximately 9 by 13 inch rectangles. Cut each in half length wise, and slice each length diagonally to make little triangles.
If using filling I, you are going to brush apricot jam on these triangles and then add your nut/spice mixture on top. Then you roll the triangle into a crescent starting from the base. Place on cookie sheet lined with parchment paper, and chill for 10 to 15 minutes in fridge.
Brush with eggwash, and place in a preheated 375 degree oven for 20-22 minutes, rotating the cookie sheet half way through the baking process.
If you are using chocolate chips, simply put them on the squares and roll them up into crescents. Again, you will chill them, brush them with eggwash and bake them the same way.
get the genius kitchen app.
Watch on your iPhone, iPad, Apple TV, Android, Roku, or Fire TV.
Learn More