"This comes from Betty Crocker's Best Bread Machiine Cookbook. I finally found the perfect recipe for whole wheat bread made in my machine but baked in the oven.I use Barley Malt instead of honey."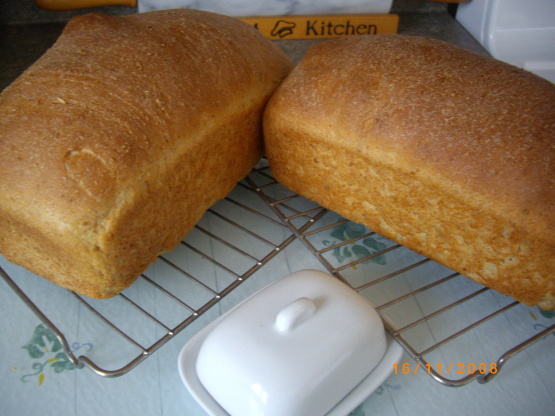 Perfect Whole Wheat Bread
4 recipe photos
Directions
Measure ingredients and follow your bread Machine instructions.
I use Becel intead of butter.
Select Dough cycle.
When your machine is first kneading check to make sure you have enough water.
Remove from machine and shape into 2 loaves.
Bake in a preheated 400*oven for 10 minutes.
Lower heat to 350* and bake another 20 minutes.
After baking remove from pan and let cool on wire rack.
I keep one out and freeze the other one.
Tip:
Innisfree gave this wonderful suggestion for rising bread and it WORKS!
In microwave, heat up 1 cup of water to boiling and let it boil for about a minute. Carefully remove cup of boiling water and place bowl of dough in the microwave. No need to cover dough as the microwave stays moist like a proofing box.
I leave the cup of water in the microwave and place my loaves in the microwave and in no time you have it ready for the oven.
Good luck!
get the genius kitchen app.
Watch on your iPhone, iPad, Apple TV, Roku, or Fire TV.
Learn More