"This is a variation of a bruschetta and Caprese Salad. There are 3 steps but it is really worth the effort. It uses all the elements of a Caprese salad as a topping ala bruschetta. Thanks to Chef Marie Yates for the name."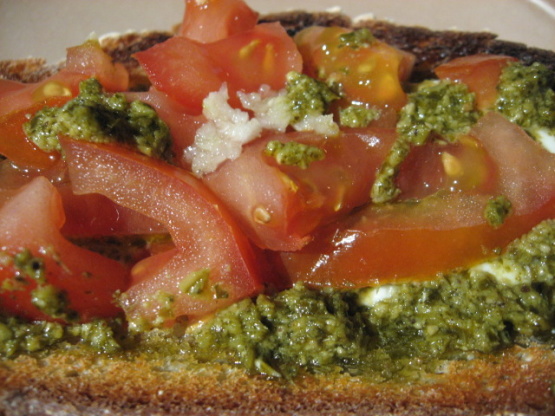 Peschetta: a Simple but Tasty Appetizer
1 recipe photo
Directions
Preheat oven to "low" broil.
Take an 8x11 cookie tray and spray "lightly" with olive oil no stick spray.
Slice the baguette into 1/2 inch slices and spread out to cover the tray.
Slice cherry tomatoes in half.
Note: the next two steps must be watched carefully to avoid a burnt app.
Drizzle a "small" amount of extra virgin olive oil over the slices and pop in the oven until "lightly" browned. Here you can add a bit of minced garlic to taste.
Remove from oven and sprinkle a small amount of mozzarella on each. Pop back in oven until cheese is "barely" melted.
Remove from oven and put a dollop of pesto topped with a half cherry tomato on each slice. Serve and get ready to make more.