"From CIA's cookbook Breakfasts and Brunches. Use the best quality gruyere you can find. Perfect little appetizers! Next time I prepare these, I want to add some fresh herbs to the dough!"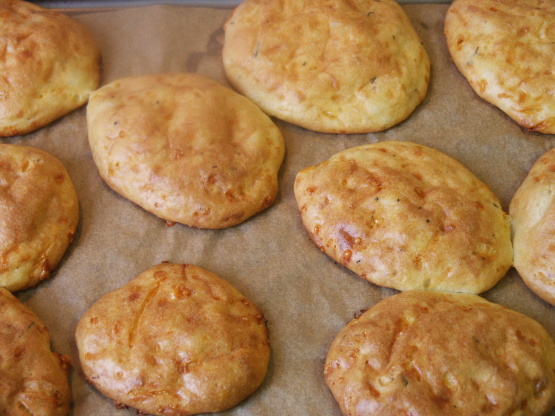 Petits Choux Au Fromage Ou Gougeres (Cheese Puffs)
3 recipe photos
Directions
Preheat oven to 400 degrees.
Line 2 aluminum baking sheets with parchment paper.
Combine the water, olive oil and salt in a saucepan over high heat and bring to boil. Add the sifted flour all at once and stir well.
Cook the mixture, stirring constantly to break up any lumps, and until the dough begins to come away from the sides of the pan, approximately 5 minutes.
Immediately transfer the dough to a *mixing bowl of a stand up mixer fitted with the paddle attachment and beat the dough on medium speed to cool to room temperature.
*(I used standard mixing bowl and electric beaters.).
Add the eggs one at a time, beating well after each egg is added. You want a stiff but pliable texture to the dough.
Finally, add the gruyere cheese and black pepper. Continue mixing for 1 minute.
Using a greased teaspoon, drop the dough 2" apart onto the baking sheet. (You can alternatively use a pastry bag fitted with a plain round tip and pipe the dough into 1" diameter balls 2" apart onto the baking sheet.).
Bake until golden brown and puffed, about 5 minutes, then reduce the heat to 325 degrees and continue baking the puffs until cooked through, about another 20-25 minutes.