"This recipe was handed down to me by my Great Nan, who made them for over 90 years. This recipe was one of the many brought over with her family from Germany many years ago. I have finally been able to successfully make this almost like hers, and look forward to making it for my children and grandchildren some day, just like she did."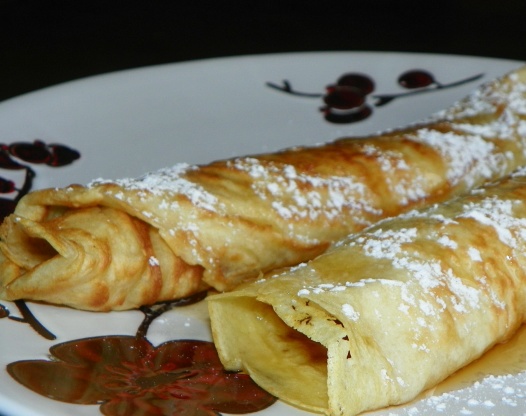 Pfannekuchens
2 recipe photos
Directions
Mix together all ingredients, except milk.
Add milk last until batter is almost water thin.
Heat 1-2 tablespoon vegetable oil in small pan over medium heat.
When oil is hot, add about 1/4 cup batter; rotate pan until bottom is covered with batter. (Tip: tilt pan just a little and rotate slowly.).
When batter is almost "dry" (cooked) on top, flip onto other side.
When other side is slightly browned, remove from pan.
Swirl with syrup and roll up.
Serve sprinkled with powdered sugar and more syrup (if desired).