"Vietnamese Beef Noodle Soup with Eye Round Steak"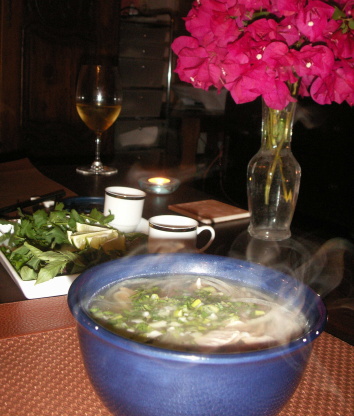 READY IN:

5hrs 30mins

SERVES:

18

UNITS:

US
Directions
Bring 4.5 gallons water to a boil.
Trim top off shallots, leaving skins and bottoms intact. Rinse and leave skin on ginger. On high heat, dry-fry shallots and ginger until shallots are slightly charred and ginger is soft on edges, turning regularly for about 15 minutes.
Pound ginger until it cracks slightly, and add ginger and charred shallots to boiling water.
In a medium tea ball strainer, combine fennel, bay leaves, cinnamon, anise, and cloves; add tea ball with spices to boiling water. Add oxtail to water, and return to boil.
Cover and reduce heat to medium-low, maintaining a slight boil. Skim fat periodically (2x / hr) and cook for 4 hours.
Add chicken bouillon, sugar, 2 tbsp sea salt and fish sauce, cook for 1 more hour, then strain all solids from broth.
20 mins before broth finishes, begin soaking rice noodles in cold water for 20 mins, and place eye round steak in freezer to ease slicing.
Arrange lime wedges, cilantro stalks, thai basil stalks, sliced serrano peppers, diced green sections of green onions, hoisin, and sriacha on serving plate for personal addition to the individual soup bowls.
Fill small saucepan with water and 1/2 tsp salt; bring to a boil. Place strainer inside saucepan and cook rice noodles in 3oz increments in water nest for 90 seconds each before transferring to individual bowls.
In each bowl, place 3oz cooked noodles, 1 oz thinly sliced white onion, 2oz thinly sliced raw eye round steak, 12oz broth. Hot broth, when spooned into the bowl, will cook the raw eye round slices.
**Note: if scaling down on numbers of servings, cooking time should remain the same. Also, bean sprouts traditionally are added to the garnish plate; I personally don't care for them so I have left them out of the recipe and photos in this case.