"I needed something to use up my green tomatoes. I found this recipe in Keeping the Harvest by Nancy Chioffi and Cretchen Mead. I modified the spices to suit my tastes (used heaping teaspoons). This makes an excellent meatloaf when combined (1/2 pt) with 1 lb ground turkey, 1 egg and 2 crushed matzos (topped with 1/4 cup of ketchup mixed with 2 Tbsp brown sugar and 1/2 tsp cumin). Also good on hamburgers (mixed with ketchup) and hotdogs. I hand chopped the veggies because I wanted to give this as gifts, and I like the uniformity of the pieces, but using a food processor would take a fraction of the time."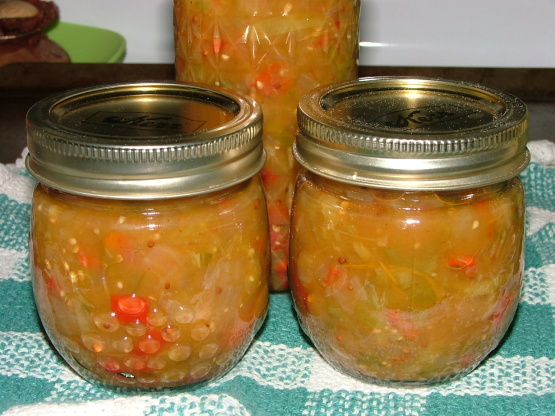 Piccalilli (Green Tomato Chutney)
1 recipe photo
Directions
Wash, seed and quarter the peppers. Wash and quarter the tomatoes. Peel and quarter the onions.
Pulse vegetables in batches in a food processor until they are cut to a small dice. (Or chop by hand into a quarter-inch dice).
Drain off extra liquid. In a large kettle, mix vegetables and 1 1/2 cups of vinegar.
Boil for 30 minutes, stirring often.
Drain and discard liquid.
Add remaining 1 1/2 cups vinegar, sugar and spices, and simmer for 3 minutes (or until desired consistency).
Pour into hot sterilized half-pint jars, allowing for 1/2 inch headspace, and process in a boiling water bath for 5 minutes (up to 1,000 ft of altitude).