"This relish from "The Joy of Pickling" has replaced sauerkraut in our house. Sour, sweet, and spicy, it's great for topping hot dogs or as a side with sausage. Serve hot or cold. Editted to add: Feel free to substitute other commercial vinegars. I often use white vinegar or apple cider vinegar, as white wine vinegar can be a bit expensive."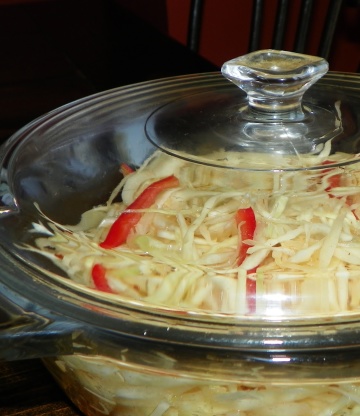 Pickled Cabbage and Peppers
2 recipe photos
Directions
In a large bowl or cork, toss the cabbage and peppers with the salt. Cover and let stand in a cool place for 8-12 hours.
In a non-reactive saucepan, combine the sugar and vinegar. Bring to a boil, then let it cool.
Rinse the cabbage, and drain it well. Toss with the pepper flakes, mustard seeds and garlic. Pack the vegetable mixture firmly into pint mason jars. (the recipe as written generally makes about 4 pints. If you find you need more jars, you may not have packed firmly enough - and you'll need more vinegar mixture as a result.) Pour the vinegar mixture over the vegetables. Close the jars with hot two-piece caps.
Process the jars for 20 minutes in a boiling water bath. Store the cooled jars in a cool, dry, dark place for at least 3 weeks before eating the cabbage.