"Is your garden being generous with green beans? Make these to enjoy the summer during the winter months, I used the tricolor bush beans as you see in the photo the purple ones turn green after cooking."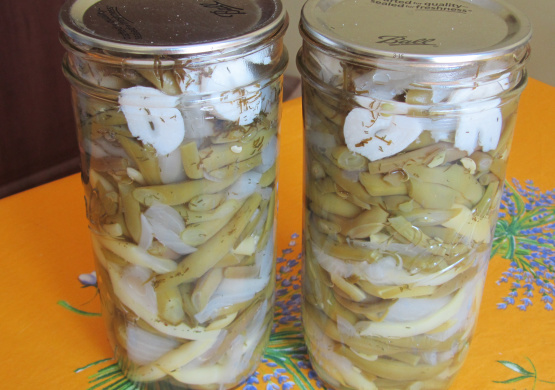 Pickled Garlicky Green Beans
1 recipe photo
Directions
Cut beans to size you enjoy or keep whole.
Cook beans in salted boiling water for 3 minutes add onion and cook 2 more minutes.
Bring to a boil the water, vinegar, salt, sugar, dill and pepper flakes.
Drain and pack well into sterilized jars I used 2-24 ounce jars.
Leaving 1/2 inch headspace.
Add 1/4 teaspoon pickle crisp in each jar.
Pour the boiling vinegar mixture over beans leaving 1/2 inch headspace.
wipe rims and place lids.
Process in water bath 5 minutes, timing after water comes back to a boil.
Remove from bath and leave sit over night in a draft free spot. Check lids. If not sealed refrigerated.
Give two weeks for flavors to blend.