"Great for sandwiches, nachos, or just as a relish to pass on the side. PLEASE wear rubber gloves when working with hot peppers. If you don't you will be very sorry :( I put 1/4 teaspoon of Ball Pickle Crisp in each jar. This helps to keep the peppers from becoming mushy even though you'll be processing them in a boiling water bath canner. The Food.com "brain" doesn't know what Pickle Crisp is, so it won't let me put it in the ingredient list. You can still make the peppers without the Pickle Crisp, but they won't be as firm as they would be with it. If you want the peppers to be crisp/crunchy, see
Crunchy Pickled Jalapeno Rings (Made With Pickling Lime)
. Pickling lime is the only way to keep the peppers really crunchy if you are going to process them in a boiling water bath. This recipe makes about 4 pint jars."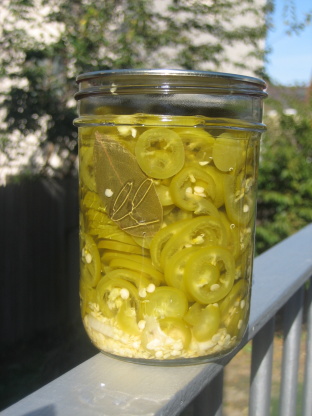 Pickled Hot Jalapeno Peppers
1 recipe photo
Directions
Rinse the jalapeno peppers in cool water.
Trim the stems to 1/2" and cut 2 small slits in each pepper, OR cut into 1/4" slices.
Divide the habanero slices, onion slices, garlic, oregano, bay leaves and peppercorns evenly between your 4 sterilized pint jars. Add 1/4 teaspoon Pickle Crisp to each jar.
Pack the peppers on top of these seasonings in the jars, leaving 1 inch headspace.
In a 2 to 3 quart stainless steel saucepan, combine the vinegar, water, sugar and salt and bring to a boil. Stir until the sugar and salt are completely dissolved.
Ladle this brine into the jars, covering the peppers and leaving 1/2 inch headspace.
Using a bubble freeer or plastic knife, remove any air bubbles.
Wipe the jar rims and threads with a clean, damp cloth. Cover with hot lids and apply screw rings.
Process pint jars in a water bath for 10 minutes.
get the genius kitchen app.
Watch on your iPhone, iPad, Apple TV, Roku, or Fire TV.
Learn More