"I have been using this recipe for blanketed piggies since I first came across it almost 15 years ago from either my sister or my grade 9 home economics class. I'm so glad I have it since it's so hard to find a blanket recipe from scratch! I can cover a typical Canadian package of 12 hot dogs with this recipe."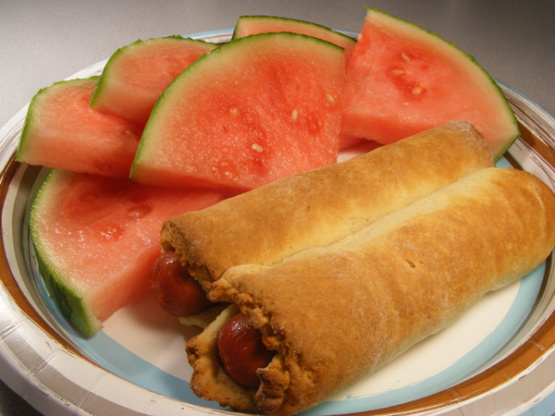 Pigs in a Blanket (Blankies from Scratch)
3 recipe photos
Directions
Sift the dry ingredients in a bowl.
Mix in the butter/margarine and milk.
On a lightly floured surface, roll out the dough to desired thickness and as wide as the hot dogs to be wrapped are.
Wrap the individual hot dogs or sausages in their own blanket.
Bake at 425°F for about 10 minutes or until slightly brown.
*If you get to the end of the dough, yet still have more hot dogs left without blankets, it's easy just to roll the wrapped hot dogs between your hand and your work surface to make their blanket thinner, that way you can cut off the excess dough off from either side of the hot dog and combine the ends and roll out another strip of blanket. Maybe you'd like to consider adding a bit of cheese inside the blanket for added flavor.