"I started with Mom's recipe and modified it over the 25 years of my marriage. Also I learned a method of rolling the "pigs" from one of Martha Stewart's books."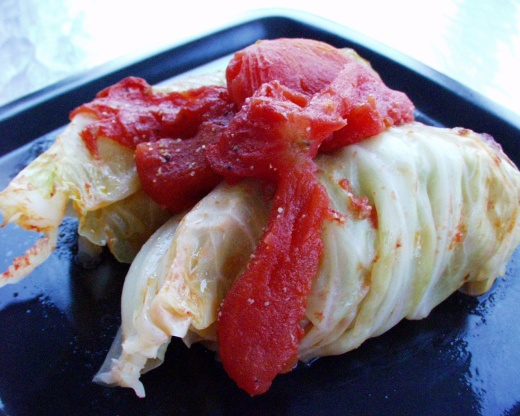 Pigs in the Blanket Aka Stuffed Cabbage
1 recipe photo
Directions
Wilt head of cabbage in large pot of boiling water for 5 minutes. Remove cabbage from pot, cool slightly and separate leaves, taking care not to break the leaves.
Mix ground beef, sausage, cooked rice, garlic salt, paprika and pepper. Form 3 inch balls. Place meatball into cabbage leaf and fold leaf around the ball. Place roll into a large square of cheesecloth, cover and twist ends of the cloth to shape and tighten the roll. Remove cabbage roll and repeat until all filling is used.
In a large roasting pan which has been coated with olive oil, place layer of cabbage rolls (folded side down), cover with 1 can of tomatoes, and repeat. Pour chicken broth over the layers.
Preheat oven to 325 degrees F. Cover roasting pan and bake for 2 hours or until until cabbage is tender. Serve with mashed potatoes.