"Oh Boy! these are so yummy! What could be better than cheesecake bars made with candied pineapple and ginger. Your guests will beg for this recipe. Only you need to know how quick and easy these are to make."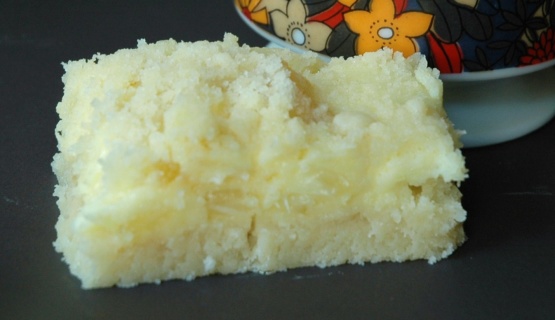 Pineapple & Ginger Cheesecake Bars
4 recipe photos
Directions
Preheat oven to 350°F.
For crumb mixture - combine in a small bowl, flour, sugar, butter and candied orange peel.
Beat on low speed for 2 minutes until well mixed.
Set aside 1/2 cup of the crumb mixture for later use.
Press the crumb mixture into an ungreased 8" square pan.
Bake for 12 - 15 minutes, just until edges are lightly browned.
Set aside to cool, while you make the filling.
For the filling - Combine cheese, sugar, egg and lemon juice.
Beat on medium speed for 2 minutes until light and fluffy.
Stir in the candied pineapple and ginger.
Spread the cream cheese mixture over the warm crust.
Sprinkle the reserved crumb mixture on top.
Put back in the oven and bake for 15 - 20 minutes longer.
Cool completely, cut into squares and store covered in the fridge.