Want more from Genius Kitchen?
Watch on your Apple TV, Roku, or Fire TV and your iOS, Fire, or Android device.
Learn More
"From sandiegozoo.com. Serve these fruit treats in pink bowls! You will need six pink straws or pink chopsticks for this recipe. Did you know:? The prehistory of the Phoenicopteriformes is far better researched than their systematic affinities (see below). An extinct family of peculiar "swimming flamingos", the Palaelodidae, was initially believed to be the ancestors of the Phoenicopteridae. This is nowadays rejected, as the fossil genus Elornis, apparently a true albeit primitive flamingo, is known from the Late Eocene, before any palaelodid flamingos have been recorded. A considerable number of little-known birds from the Late Cretaceous onwards are sometimes considered to be flamingo ancestors. These include the genera Torotix, Scaniornis, Gallornis, Agnopterus, Tiliornis, Juncitarsus and Kashinia[1]; these show a mix of characters and are fairly plesiomorphic in comparison to modern birds. There exists a fairly comprehensive fossil record of the genus Phoenicopterus...In a 2004 study comparing DNA sequences of intron 7 of the β-fibrinogen gene (FGB-int7), the Neognathae (all living birds except the ratites and tinamous) excluding waterfowl and Galliformes were shown to be divided into two subgroups of uneven size. The first and smaller one, Metaves, contains flamingos and grebes, alongside the hoatzin, pigeons, sandgrouse, the Caprimulgiformes, the Apodiformes, tropicbirds, mesites, sunbittern and kagu. Interestingly, most of these groups have traditionally been difficult to place on the family tree of birds. According to this study, all other birds belong to the second subgroup of Neoaves, the Coronaves. The flamingo's characteristic pink colouring is caused by the Beta carotene in their diet. The source of this varies by species, but shrimp and blue-green algae are common sources; zoo-fed flamingoes may be given food with the additive canthaxanthin, which is often also given to farmed salmon."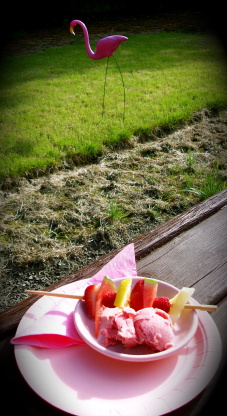 Pink Flamingo Fun 'n' Fruity Kabobs C/O --Tasty Dish--
2 recipe photos
1

cup watermelon wedges, sliced small

1

cup strawberry, sliced (whole raspberries are good, too!)

1

whole pink grapefruit (cut into slices or small wedges)

strawberry sherbet (ice cream, gelato, strawberry yogurt or frozen yogurt are other choices)
Directions
Arrange the fruit slices onto pink straws or pink chopsticks kabob-style.
Place the fruit kabobs in the sherbet and eat!
Amounts are estimated.
get the genius kitchen app.
Watch on your iPhone, iPad, Apple TV, Android, Roku, or Fire TV.
Learn More