"This recipe was featured in an email this morning from King Arthur Flour. "These crisp-soft, cream-filled nuggets are topped with a shower of confectioners' sugar. We like to tint the sugar pink in honor of Breast Cancer Awareness Month, in October, when they're an especially appropriate dessert. A source of both vitamin D and calcium (key to good health in older women) and lower in fat, they can also easily be made sugar-free, in which case they're just 40 calories each.""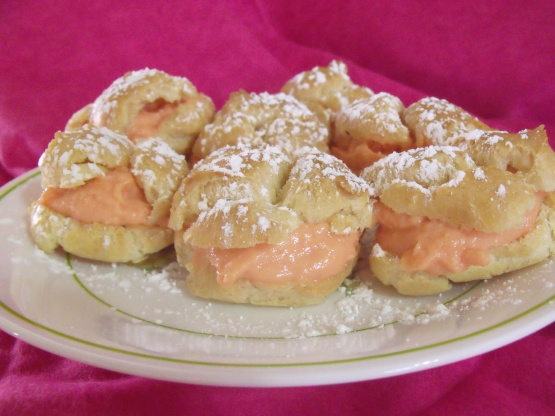 Pink Puffs
3 recipe photos
Directions
Preheat the oven to 400°F Lightly grease (or line with parchment) two baking sheets.
Combine the water, butter, and salt in a medium-sized saucepan, heat until the butter has melted, and bring to a rolling boil.
Add the flour all at once, stirring vigorously until the mixture smoothes out and follows the spoon around the pan; this should take less than 30 seconds.
Remove the pan from the heat, and let the mixture cool for 5 to 10 minutes. It'll still feel hot, but you should be able to hold a finger in it for a few seconds.
Transfer the dough to a mixer, and beat in the eggs one at a time; the mixture will look curdled at first, but when you add the last egg it should become smooth. Beat for 1 minute after adding the last egg. You'll have a stiff, smooth batter.
Drop the dough by teaspoonfuls (about the size of a chestnut) onto the prepared sheets (a teaspoon cookie scoop works well here). Leave about 1 ½" to 2" between them; they're going to expand to about the size of a golf ball.
Bake the puffs for about 20 minutes, till they've puffed, they're a medium golden-brown, and they look dry.
Remove baked puffs from the oven, and use a sharp knife to cut a slit into the side of each puff, for steam to escape; this will help prevent them from becoming soggy. Return the puffs to the oven for 5 minutes, then remove from the oven, and transfer to a rack to cool.
To fill puffs: Combine all of the filling ingredients, stirring till it's begun to thicken. Refrigerate until set, about 1 hour. Pudding can be made ahead; puffs are best filled just before serving.
Gently open each puff along a natural "fault line;" you'll see where they want to split. Fill bottom half of each puff with 2 measured teaspoons of filling, and replace with top half. Too fill puffs fuller, see tip at right.
Sift confectioners' sugar atop puffs just before serving. For pink sugar, combine sugar with red food coloring in a blender or food processor (a mini processor works well here). Rub the pink sugar through a sieve onto the puffs.
get the genius kitchen app.
Watch on your iPhone, iPad, Apple TV, Roku, or Fire TV.
Learn More