"These are quick and colorful. Use plain, whole wheat, or colorful spinach, herbed, or sun-dried tomato tortillas to wrap up your favorite meat and cheese. Be creative!"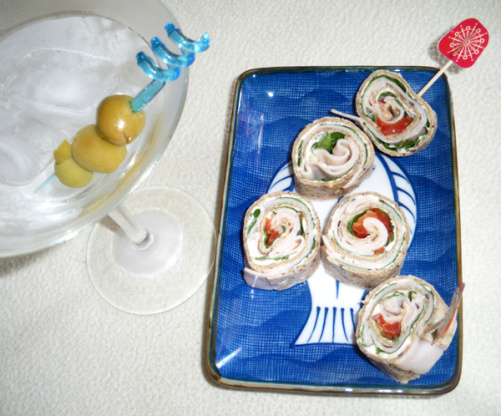 Pinwheel Appetizers
5 recipe photos
Directions
Spread each flour tortilla with one-third of the semisoft cheese.
Add a layer of the large basil leaves to cover cheese.
Divide sweet pepper strips over the basil leaves 1-2 inches apart.
Top with meat slices.
Spread 1 teaspoons mayonnaise over the meat on each tortilla.
Roll tortilla up tightly; wrap wach roll with plastic wrap.
Chill for at least 2 hours to blend flavors.
To serve: Cut each tortilla roll into 1-inch slices.
If desired: Skewer each of the cut tortilla rolls onto frilly toothpicks.