"Pistachio nuts in a blanket of orange blossom hinted cookie batter topped with sesame seeds. These cookies have a slightly grainy texture due to the semolina."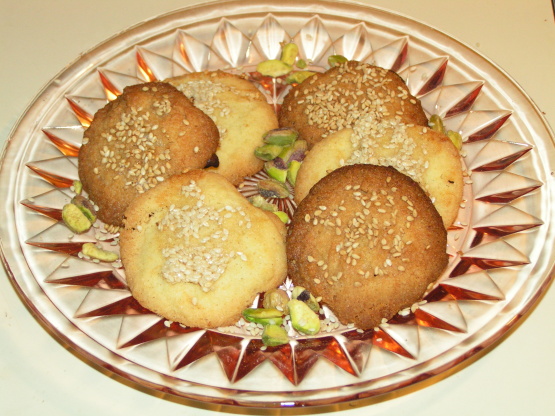 Pistachio Delight
2 recipe photos
Directions
Using a stand mixer by hand or a hand mixer, creme ghee and sugar till well blended.
Add vanilla and baking powder while mixer is still on.
Add semolina flour and blend until fully incorporated.
Add white flour and do the same on slow speed. If doing by hand, stir the mixture starting slowly and gradually increasing speed.
Stir in orange blossom water and egg. At this time the mixture will appear thin but do not be concerned it needs to be wet.
Preheat oven to 400 degrees.
On a piece of parchment paper on a cookie sheet place place 4-6 pistachio halves
Using a melon baller, make a ball of cookie dough and roll the top in sesame seed.
Place on top of the 4 pistachio nuts.
Bake until the cookie is golden brown about 10-14 minutes.
Cool and remove from cookie sheet. Enjoy!