"The recipe for these rich and tasty treats came from an Al Roker cookbook courtesy of the Food Network. Blondies have been popular in America even longer than brownies. This recipe would be appropriate for any U.S. region."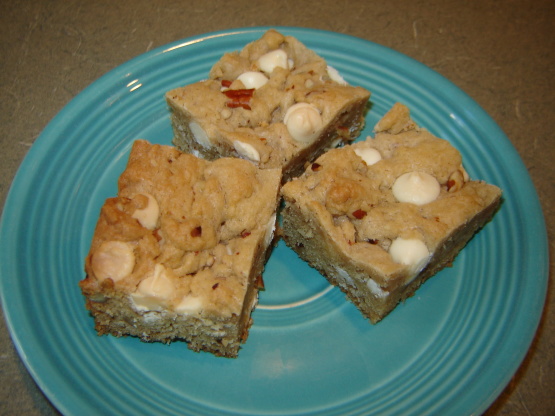 Platinum Blondies
3 recipe photos
Directions
Preheat oven to 325°F.
Grease an 8" square baking pan.
Beat sugar and egg until fluffy, about 3 minutes with mixer.
Add vanilla and butter, and beat to mix well.
In a small bowl, stir flour, baking soda, and salt.
Add flour mixture to the butter mixture, beat just until incorporated.
Don't overmix.
Stir in the pecans and white chocolate with a spoon.
Note: I buy a good quality white chocolate bar, and beat it in the package with a heavy spoon or meat tenderizer to break it up into chunks before opening the package, and pouring into the mixture.
Spoon the batter into the pan and smooth the top.
Bake for 25- 30 minutes, until the top is dry and golden, and a knife inserted in the center comes out with just a few crumbs, not perfectly dry yet.
Remove from the oven and cool.
Cut into 2" squares.